Business
Alumna Channels Love of Hockey, Athletics into Future in Law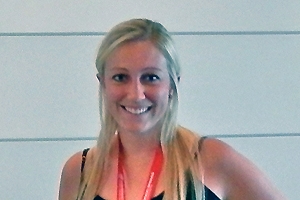 Kelly Hartnett always knew she wanted to be a part of the sports world. When it became clear she wasn't going to be a professional athlete, she found another way to reach her goal.
Hartnett, BSBA '10, took her passion for sports and applied it to her career. Currently a law clerk for the United States Olympic Committee (USOC) in Colorado Springs and pursuing a law degree at Drexel University, Hartnett has her eyes set on a future in sports.
Out of the Gate
Hartnett knew getting involved in sports business would be no easy task.
"As I entered American, I knew how competitive it was to work in sports," she said. "I needed to position myself to…stand out."
Her first break came when she learned AU Athletics needed marketing interns her freshman year. Hartnett landed the position and promoted athletic events, improved student involvement, developed ticket packages, and organized in-game promotions.
To complement her work as a marketing intern, Hartnett began playing for the women's club ice hockey team as a freshman and was named president her second semester, a position she would hold for the remainder of her time at AU.
"Being president not only kept me grounded, but helped me learn how to market a team, fundraise, and work through logistics," she said.
Playing the Field
Hartnett continued to build on her experiences. She used her position on the club hockey team to reach out to the Washington Capitals, D.C.'s professional hockey team, for a job.
For the rest of her time at Kogod, Hartnett worked as an Amateur Hockey Group Sales Intern for the Capitals, focusing on youth engagement, an experience that taught her the ins and outs of sports business.
"I got to see how each department interacts and creates value and revenue for the business," she said.
Hartnett spent the summers following her sophomore and junior years fulfilling her dream of working for her favorite hockey team, the Philadelphia Flyers. As an intern, Hartnett worked with the marketing, fan development, and community relations departments.
After graduation, Hartnett took her talents to law school and the National Lacrosse League (NLL). While studying business and intellectual property law, she worked directly with the league's commissioner on governance issues, collective bargaining agreement negotiations, and licensing.
"Working for the NLL was a perfect tie-in of my undergraduate internships with my new career in law," she said.
All Together Now
As a law clerk for the United States Olympic Committee, Harnett has found yet another opportunity to use her extensive athletics experience and business education.
Her job boasts a wide variety of duties, ranging from sending cease and desist letters regarding USOC intellectual property infringement, to researching USOC trademarks, to working with national governing bodies.
Her main focus has been on protecting the USOC's intellectual property, Hartnett said, a task that the organization commits significant resources to.
"Working at the United States Olympic Committee has been incredible," she said. "The lawyers and legal staff…are some of the most terrific people I've met."
Upon completion of her law degree, Harnett hopes to work for a professional team or league as in-house general counsel, though she's open to remaining at the USOC as well.
"Working full-time [here] would be a dream."