Education
Cultivating Bilingualism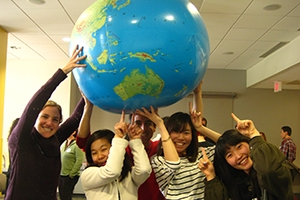 Ana-Maria Nuevo grew up in a home where speaking Spanish and English was nothing out of the ordinary. In fact Nuevo's father was one of the first professors at the City University of New York to foster bilingual education as an academic discipline. 
Now, in her own way, as director of the School of Education, Teaching, and Health's (SETH) new bilingual education program, the former vice principal of the Carlos Rosario Public Charter School in D.C. is bringing the family trade to American University. 
Nuevo, whose background is in second-language learning, has come to AU at just the right time. D.C. public schools alone, not counting charter schools, have 144 dual-language classrooms, says SETH dean Sarah Irvine Belson. 
D.C.-area schools offer dual-language or immersion programs pairing English with Spanish, French, Mandarin, Amharic, Vietnamese, and Latin, as well as other languages such as Yiddish and Portuguese. 
Now SETH is reaching out to D.C. schools to establish practicums and partnerships to make the AU program work. 
"Dual-language programming continues to expand in DCPS as schools add new grades and additional classrooms," says Katarina Brito, bilingual program developer for the District of Columbia Public School's Office of Bilingual Education. "Dual Language teachers have a challenging job as they are both the content and the language teacher in their classrooms. We recognized the need for program-specific professional development opportunities to allow them to extend their expertise in working with students learning in two languages. We are excited about AU's new bilingual education program and options it affords our teachers."
"We've actually had a group of D.C. teachers take a [bilingual education] summer course with us" to help the program's launch this fall, Irvine Belson says. 
The bilingual education program offers three degree or certificate options: a graduate certificate in bilingual education, a master of arts in bilingual education, and a master of arts in teaching (MAT) in bilingual education.
The first two are geared toward both classroom teachers and policymakers planning to work domestically or internationally in bilingual education, while the MAT is for people seeking a teaching license. Whereas educators can expect requirements such as teaching practicums to obtain their degree or certificate, policymakers will concentrate on coursework tailored to their needs, such as international development policy in literacy or bilingual education. 
Students can pursue three different tracks: 
Kindergarten through 12th grade—the MAT option—leads to certification to teach in elementary or secondary school

International Training and Education (separate from the MA in international training and education) concentrates on education policy and programs abroad to work at organizations such as NGOs or the U.S. State Department

TESOL (separate from the MA in teaching English to speakers of other languages) focuses on teaching English at post-secondary sites in both the United States and abroad. 
The growing need for bilingual education comes after changing attitudes—at least in the United States—toward the desirability of teaching children multiple languages. Even today some educators worry that children from multilingual homes develop expressive language skills in English more slowly than their English-only classmates. 
"If you're being raised in an English-only home, you're going to develop at what might seem like a quicker rate than if you're in a bilingual or even trilingual home," says Irvine Belson. "Your expressive language is a little slower to develop. You want teachers working with that child to say, 'It's okay, he's developing at a different rate because his parents are speaking Dutch and Spanish at home and we're speaking English to him at school. That's a lot going on.' The fascinating thing is that once that breaks through you find you have different cognitive skills that you don't have if you were raised in a monolingual home." 
Research shows that speaking more than one language literally changes the structure of your brain, Irvine Belson says. 
"Just 20 or 30 years ago there was this idea that you were developmentally disadvantaged for having access to multiple languages," adds Nuevo. "So it's great that as a people from a societal perspective that we can gain a better appreciation for multilingual societies . . . In the U.S. we're still catching up with this idea of a multilingual society where in most other parts of the world bilingualism is just a fact of life."