Alumni
For AU Sweethearts, College Romance Stands the Test of Time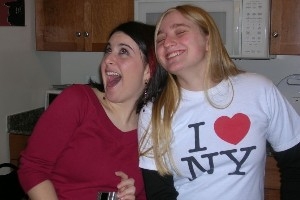 Amy Lessler, SOC/BA '06, and Allison Shaw, CAS/BA '05, were married this past September, but their love story –- like 2,500 other American University alumni couples -- began at AU. We talked to Amy and Allison as part of our AU Sweethearts Social Media project.
For the second year in a row, we are collecting and sharing stories of couples who met at AU. Through Facebook comments, tweets, and submissions to our website, we have heard many wonderful stories, and we will continue to showcase AU couples throughout the month of February. You can fill out this questionnaire, tell your story (include a photo!) on our Facebook wall, or share stories and photos on Twitter and Instagram using #AUSweethearts.
Describe how you met and your first impressions of each other.
Amy: I met Allison when I was hosting my roommate's 20th birthday party, and my best friend asked if she could invite a new GLBTA Resource Center work-study student. When my friend described her, I knew who she was talking about. Even though I'd never met her, I'd seen her around the Mary Graydon Center with her art portfolio (she was a graphic design major) and thought she was cute.
Allison: We immediately hit it off and had a great night. I thought she was funny, outgoing, and had beautiful brown eyes. When I was leaving the party, I "forgot" my sweatshirt so that I could come back up the next day to retrieve it—and talk more.
Amy: The following week I worked up the courage to go to the GLBTA Resource Center to ask her out. It was the first time I'd ever asked anyone out on a date.
Describe your first date.
Allison: Our actual first date was a failed attempt at a movie and dinner on Bethesda Row, but the movie sold out. In my mind, our official first date was to Ben and Jerry's on Free Cone Day in Dupont Circle. We were having such a great time that we hopped on the bus to Georgetown to the other Ben and Jerry's location for another free cone and more talking!
Amy: We still try to get to free cone day at Ben and Jerry's every year to commemorate one of our first dates.
What is your favorite AU memory together?
Allison: We both volunteered with the GLBTA Resource Center, and I remember several sing-alongs while getting work done!
Amy: There are so many! But… I have two favorite memories of concerts at AU with Allison:
My senior year, I was volunteer staff at the GLBTA Resource Center, and we brought singer-songwriter Melissa Ferrick, who was pretty famous in the world of queer women, to perform in the Tavern. I led the charge of the organizing the concert. I remember watching the show with Allison and my best friends and feeling so lucky and happy. It was such a small, intimate show, just for us at AU. All of our hard work had paid off and life was so great!
In 2008, Allison and I had been broken up for almost two years but remained friendly, so we went to a Paramore and Jimmy Eat World concert at AU with friends. It was the first time I'd been back on campus since I graduated. While we were watching the show, Allison smiled at me in a way that told me things were about to change, and I love that it happened at AU, where it all started.
Describe the proposal.
Allison: Amy planned a massive scavenger hunt all around Manhattan, taking me to all my favorite places including Cafe Grumpy and the Rose Space Center in the American Museum of Natural History. At the end, she proposed to me on a bridge in Central Park, overlooking the pond and the midtown skyline. After I said yes, we walked back to our apartment, where she had also arranged to have my parents and her parents surprise with a little reception and party!
Amy: Later, we all went out to dinner and Allison stood up to thank everyone for being there and then surprised me by presenting me with a ring that her mother had brought in anticipation of the occasion. Later that night, friends came over to continue to celebrate. It was just so perfect and wonderful!
Anything else you'd like to add?
Amy: We recently were married in my hometown of Westport, CT on September 28, 2013 with many AU alumni in attendance, five of whom were in our bridal party. My uncle who married us graduated from AU's Washington College of Law.
AU has given us both many things. It is where I learned how to channel my desire to help people into a career in non-profits where I can make a difference. It is where I felt safe to explore who I was and come out of the closet and live my truth. I know I can always come back to AU and am so happy to be getting involved again as San Francisco social and networking programs co-chair for the AU Pride Alumni Alliance, which has reconnected me with a mentor, Mindy Michels.
But most importantly, AU was where I met people I can't imagine my life without. I met some of my best friends and the love of my life at AU, and there is no way to express how grateful I am for that.