Business
Alumna Tells New Undergraduates How to "Be Awesome"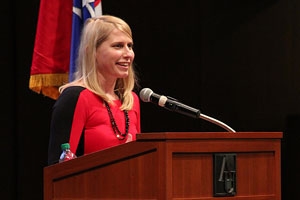 Amy Anda knows a little about being awesome.
Anda, BS/BSBA '02, has been honored for her business savvy and philanthropic work by such organizations as the Smithsonian Institution of Young Benefactors, WUSA-TV9, and the Apex Society. She's currently the director of Credence Management Solutions, LLC, an advisory consulting company that had 10 employees when she started two years ago and now employs more than 70.
"I've always believed in giving back to the spaces and places that gave to me," Anda said. "We all have a duty to keep making the world better where we can."
Anda recently shared what she believes are the three points to being awesome with the incoming freshmen of Kogod's Class of 2017 and transfer students during her speech at Academic Welcome.
Part One: Passion
The ingredients of awesomeness aren't equal, according to Anda. Some pieces of the pie are bigger than others—and the biggest part is passion.
"Having a passion for what you do and sharing that passion with others, that's truly what makes any business successful," she told students.
Anda encouraged the freshmen to explore Kogod and American University beyond the classroom to find what makes them passionate, highlighting the numerous clubs and organizations open to students.
"I'm a builder and a fixer. Whether it's helping a client be more efficient in his technology practices or working with Habitat for Humanity, I feel best when I'm finding a solution to a problem," she said. "AU helped me discover that about myself."
Part Two: Partners
Passion is only effective when it's shared, said Anda. Businesses are collections of relationships: from the client and contractor to the mentor and mentee, collaborations are everywhere.
Relationships aren't conjured out of thin air, Anda cautioned students. They take work and effort. She praised the advances of social networks and the ways the Internet has made it easier to find others with similar interests, but emphasized taking the first step.
"You can't be shy," she said. "You have to be the one to put yourself out there and send that email or hand out that business card."
More than improving business savvy, relationships also improve the whole person, Anda said, and that makes them priceless.
"Everyone needs to find that partner that can praise and push them at the same time."
Part Three: Bravery
The final piece to the awesome puzzle, according to Anda, is a little bravery.
Not every business venture is a success but the failures can't prevent future attempts, she said.
"You have to dare to try and then to try again. Dare to come back when you get knocked down and dare to turn the situation around."
Anda ended her talk by encouraging the new students to add their own pieces to what it means to be awesome during their time at Kogod.
"I can't wait to see all of you in four years and see what the new awesome looks like."