Arts
New Faculty Are Just the Ticket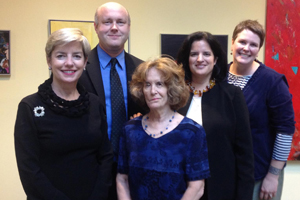 The well-respected arts management master's degree program at American University has just become even more attractive for prospective students. Besides the facilities, location, internships, and networking opportunities, the program has now added a pair of new full-time faculty members to an already strong cohort of instructors that includes industry-wide respected practitioners and academics such as Andrew Taylor, Sherburne Laughlin, and Ximena Varela.
Joan Jeffri

One of those new faculty members is scholar-in-residence Joan Jeffri, who will provide invaluable research knowledge and connections for students and faculty. She is also working with Sherburne Laughlin, director of the Arts Management program, to build an Executive International Arts Management track, as well as teaching in the Arts Management Executive Education program and working with arts management faculty on their research. In addition, she acts as one of the capstone advisor for the program's graduate students.
Jeffri is director and founder of the Research Center for the Arts and Culture (RCAC), which moved from Columbia University to the National Center for Creative Aging in Washington, DC, in 2011. Before joining AU, she was director of the graduate program in arts administration at Columbia University's Teachers College for 22 years. Jeffri has also authored several books on arts management, including The Emerging Arts: Management, Survival and Growth; ArtsMoney: Raising It, Saving It and Earning It; and Respect for Art: Visual Arts Administration and Management in China and the United States, with Professor Yu Ding, written in English and Chinese.
Jeffri began her career as a poet and actress. After having to negotiate her own acting contract, she became interested in arts management. "I realized that artists are at such a disadvantage, mostly because they love what they do so much they will often do it under any circumstances, and that is not a good negotiating position," she says. She then attended graduate school at Brooklyn College and became a consultant for the New York State Council for the Arts before writing the first course in arts management at Columbia.
"I came at it from an artistic perspective, which has never failed me," she says. "I have always focused on how important it is for management to support the art, and not vice-versa."
Jeffri, who is considered an innovative leader in the arts and the human lifecycle, founded the RCAC in 1985 to provide data and information in service of artists and the art they produce. Recent RCAC studies have focused on aging artists, including Still Kicking and Above Ground, which birthed Jeffri's current project, ART CART: SAVING THE LEGACY, which brings together students across multiple disciplines to help aging New York City and DC visual artists catalog their work. Students from AU are currently involved with this project.
On why she joined AU, Jeffri explains, "I have tremendous respect for Sherburne; she has a great capacity for being in academia without an academic ego. She has a great ability for hiring good people, and part of my interest was this cadre of people who include Andrew [Taylor], Ximena [Varela], Sherburne [Laughlin], and this nexus of arts management talent. It's a great motivator to be around colleagues that stimulate you."
Anne L'Ecuyer
Anne L'Ecuyer, the program's other new faculty member, is a writer and consultant who has connections with an international network of city leaders, cultural professionals, and artists. She previously served as associate vice president for field services at Americans for the Arts, and is the author of Public Funding for the Arts at the Local Level. After a recent stint as an adjunct instructor, L'Ecuyer has been brought on as a full-time professor in the Arts Management Program.
Early in her career, L'Ecuyer realized that while she loved working with creative artists and producing art directly, she was drawn more toward the bigger picture. "I could see that, structurally, there were policy, funding, and visibility issues for the field as a whole that I would never be able to have an impact on as a leader of a single theatre company," she says. "So I wanted to be involved with the educators, politicians, policymakers, and grant makers. I wanted to be in on the conversation."
Throughout her career, she has developed an expertise in creative industries and cultural tourism, as well as the contributions of the arts toward educational, social, and environmental goals in communities. And now that L'Ecuyer is teaching courses like Cultural Leadership, Arts Management in Diverse Communities, and Art and Experience, as well as serving as advisor for portfolio capstone students, AU students can draw on that expertise.
L'Ecuyer couldn't be happier about it. She says, "Normally when I am working with consulting clients, they have very practical objectives that they are trying to get to, and they usually have shortened timelines and pressures that are affecting the project. One thing that I am noticing about the students is that there is a very focused 'I'm here to learn' earnestness in their projects. This is the most important project for them."
Deciding to become a full-time faculty member was not easy for L'Ecuyer. She currently owns and operates the Washington Writer's Retreat, a private writing and research residency in the nation's capital, as well as a successful consulting operation with many clients. But she realized this experience can only add to the value she could bring to AU, and that teaching has always been her first love.
"I have known since I was six that I love teaching," says L'Ecuyer. "People tell me all the time that I am a natural teacher. I like doing my other work, but I love teaching. I knew that I wanted to keep an independent professional profile, but this was a perfect match because it's actually an asset that I have my toe in the water in other places."