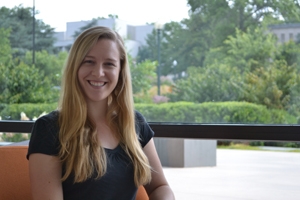 Growing up in Northern Virginia, Lily Sehn '14 dreamed of becoming a doctor and an artist. The ambition to become a physician like her father faded over time. But visiting art museums throughout Europe and the United States with her family set her on a course she has pursued with a singular focus.  
Before coming to AU, second-year AU art history master's student Sehn had had a world of exposure to the art field. She studied art for a semester in Florence and spent a summer in Rome working for the Patrons of the Arts in the Vatican Museums, an office that funds restoration projects and which allowed her access to the museums' extensive collection.  
As an undergraduate at Loyola University Maryland, Sehn studied the history of printmaking in a seminar at the Baltimore Museum of Art. She also spent a year at the Walters Art Museum in Baltimore facilitating educational programs. 
"I've always enjoyed making things," says Sehn, who does printmaking, watercolor, and digital media, "but I've also always had an appreciation for the biographies of artists and understanding that they absorb history and their own feelings and emotions and are able to bring that out in a visual plane." 
AU has not only sharpened Sehn's focus but also given her a boost toward achieving her goals. As an intern this summer at the Phillips Collection in Washington working with curator Elsa Smithgall, she helped facilitate an exhibition demonstrating how the 1913 Armory Show influenced the collection of Duncan Phillips. The International Exhibition of Modern Art, which opened in February 1913 at New York City's 69th Regiment Armory, was a hugely influential—and, for many, shocking—show.  
"The year after the exhibit, Duncan Phillips wrote extensively on the Armory Show and sort of railed on Cezanne, Matisse, and Van Gogh and some other artists he thought were just awful," Sehn says. "About 10 years later, he changed his mind about a lot of them. And so he ended up incorporating a lot of works by these artists in his collection. We looked at the Armory Show and its impact— but mostly its impact on his collection and on him." 
She also worked part-time for a year as a museum assistant at the Phillips Collection. Sehn, who has a fellowship in the Department of Art, is a Graduate Student Council representative. She also is a big part of the operation of her department's annual Feminist Art History Conference, which will be held this year from November 8 to 10. 
"Lily contributed tremendously to the success of the Third Annual Feminist Art History Conference," says Kathe Hicks Albrecht, visual resources curator at the Katzen Arts Center's Visual Resources Center. "Lily handled registrations, created publicity, and served as an invaluable member of the team." 
Sehn is capping her final year with the perfect experience. This fall, she began a graduate-level internship for the 2013–2014 academic year working in the curatorial department of the Smithsonian American Art Museum. 
"Museums make art accessible to everybody," Sehn says, summing up her love of the institutions. "Whether you know a lot about art or nothing at all, you can appreciate something just by looking at it. Whether you like it or it brings out some emotive response, just looking at art will do something to you."