Arts
AU/GW Art History Symposium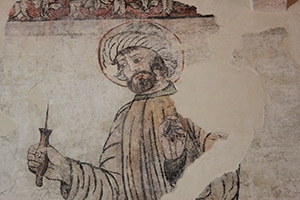 George Washington University hosted the 11th annual AU/GW Art History Symposium on September 28, 2013. The symposium is looked at as an opportunity for students to dip their toes into the waters of presenting original research. Students and faculty from the two schools and guests of the speakers make up the 40 to 45 attendees.  
This year, Kathryn Fay, Caitlin Glosser, and Carol Brown, all art history master's students from American University, presented research ranging from medieval European religious scenes to early 20th century visual poetry to Precisionist paintings. "Preparing a paper and presenting it at the symposium was challenging, and it pushed me outside of my comfort zone," says Fay. "I learned so much more about public speaking and how art history discourse is shaped." 
Glosser also found preparation challenging, but with the help of her advisor and by doing a mock presentation for members of the AU faculty, she saw how turning a paper into a presentation happens. She found that she needed to cut her paper down to fit the time limit, while retaining a coherent argument accessible to a broader audience, supplemented by the visual evidence in her PowerPoint presentation.  
Glosser's research examines the visual poetry of Italian-born Frenchman Guillaume Apollinaire. While his better-known contributions to art history lie in his role as an art critic, Glosser argues that Apollinaire's visual poetry expanded on the idea of Gesamtkunstwerk—"total artwork," an idea first put forth by Richard Wagner. Gesamtkunstwerk is the synthesis of many art forms in an attempt to make a "complete" or "total" artwork. "For Apollinaire, the total artwork is this simultaneous engagement of poetry and painting, poet and painter, reader and viewer, art and life," says Glosser. Apollinaire believed that if the arts did not combine, their traditional forms would become irrelevant to the modern viewer and reader. 
From a similar time period but across the pond in America, Elsie Driggs was a prominent painter in and contributor to the Precisionist movement. This movement was an American- born style that first emerged after World War I. Major influences were Cubism and Futurism and the changing American landscape due to industrialization. Fay's research argues that prior scholarship views Driggs's work as a separate entity, on the outside of the movement looking in. In her paper, she reconsiders Driggs's Precisionist paintings, placing them back into the narrative alongside her contemporaries. She argues that keeping them separate risks seeing Driggs's work as a unique, personal response and isolates her from the movement.  
Brown presented an in-depth look at the images of St. Anianas during the Middle Ages and Renaissance. In her research, she explores the links between St. Anianas and St. Mark and how the cultural, religious, and political dialogue of the time periods informs the representation of these two figures. "Presenting at the AU/GW Symposium spurred me on in my thesis research, moving me far beyond where I would be at this point without the impetus of the symposium," she says.  
Presenting helped her decide to continue this research as her thesis. She hopes to travel to Venice next year, as this will allow her to see information only accessible there. She also wishes to explore the transfer of St. Anianas's relics from Alexandria to Venice, as she believes this overlooked event played an important role in cementing this figure with Venetian history. 

All three echo similar sentiments: the symposium presented the selected graduate students with an opportunity to stretch their wings and get a feel for what it is like to prepare and present a paper to the larger arts and academic community. It gives them a chance to see how to shape an argument to fit a broad audience with varied levels of understanding of their research. As in Brown's case, it can provide an impetus for further research. They also learned how to connect the visual aspects of presenting with the verbal aspects, a useful skill in any discipline, but particularly in the arts where the visual is the heart of the conversation.