Achievements
AU Ranks No. 2 with Record Number of PMF Finalists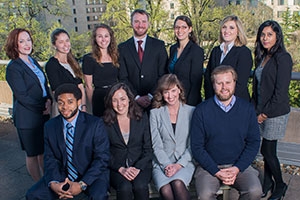 Mattea Sanders, CAS/MA '14, knew she wanted to become a public servant. As a graduate student at American University (AU), she has interned with federal agencies in D.C. including the Smithsonian and the National Endowment for the Humanities. She has definite goals for a future in public service, combining her passion for history and her interest in management.
"I want to be in a position where I can help develop an expansive vision for the way the public learns about and experiences history," she says.
Now she may have her chance. Sanders is one of 34 AU finalists for the Presidential Management Fellows (PMF) Program, a prestigious program offering successful applicants two-year salaried leadership positions in a range of federal agencies, as well as additional training and development opportunities.
"It's the best way to enter the federal government," says PMF and School of Public Affairs career advisor Robert SanGeorge. "Interest in PMF is at a record high. More of our best people are applying and are willing to persevere through the rigorous three-part application process."
This year, the PMF Program had approximately 7,000 applicants, only 608 of whom were selected as finalists. This year's 34 finalists set a record number for AU and tied with George Washington University for a No. 2 national ranking.
Intense Coaching for an Intense Application

"AU provides a level of coaching that is likely unmatched by any other university," says SanGeorge. "We also have a loyal core of PMF alumni, many of whom participate in the coaching process."
Saidah Bennett, SPA/MPA '14, another PMF finalist, says the application process was intense, especially the five-hour in-person assessment, but that the support of the Career Center made it manageable.
"They were always very active in making sure I had everything that I needed, or if I had any questions they always made themselves available," she says.
Bennett learned about the fellowship her first year at AU, and decided she would apply when she became eligible in her second year. 
"I've had some experience working at the local and state level, and I had an interest in working at the federal level," she says. "PMF seemed like a good program to jumpstart a career in the federal government, and it gives you the leadership training that will be essential in that system."
Bennett is looking for program and policy analyst positions at agencies like the Department of Justice or Housing and Human Services. She hopes to work on issues in urban affairs and economic mobility, developing programs that are evidence-based and proven to be effective in helping low-income communities. 
Success on Second Try

Luis Pablo Solorio, SIS/MA '12, shares Bennett's passion for improving lives through public service. Before beginning his graduate studies at AU, he joined the Peace Corps and spent time in Mauritania, working on an education and empowerment program for young women. Now he is a program analyst with the U.S. African Development Fund, working to promote economic development in vulnerable populations. 
"Economics has given me a great skillset for analyzing information, and it's allowed me to make contacts all over the [African] continent," Solorio says. "Now I'd like to apply what I studied by getting involved directly in the politics of international conflict and development, advancing U.S. policy and representing the U.S. and U.S. interests abroad." 
He plans to apply for positions with agencies that would allow him to continue working in international affairs, including the State Department, Department of Defense, and USAID. This is his second time applying to the PMF program.
"I would always say if it doesn't work out the first time, don't give up. There's always a second time you can do it, and take advantage of Career Center resources, which I think is fundamental to achieving success," he says. "There's a reason AU ranked No. 2 for PMF this year."
He says he continues to receive support from SanGeorge, who is putting him in touch with AU alumni currently working in the federal government through PMF. 
Humanities Students Should Apply

Sanders, the only finalist from AU's College of Arts and Sciences this year, encourages other CAS students to apply.
"CAS students don't traditionally know about PMF, but they should," she says. "A lot of these job descriptions fit skills that you get with a humanities background. In CAS I learned how to analyze information, how to write well. We need to put ourselves out there. It's hard to get into the federal government, and this is an opportunity to be seen by a lot of different agencies."
She advises future applicants to be prepared, but not to stress out about the process itself—SanGeorge and the Career Center are here to help with that.
"I can't imagine a school that's better at PMF than AU is," Sanders says.
Congratulations to all of AU's 2014 PMF finalists: Alex Zender, Andrew Horn, Bryan Thurmond, Cassandra Lewis, Charles Kilby, Christina Caryl, Elana Katz-Mink, Emily Mella, Hari Swaminathan, Hina Gir, Jackson Keith, Josie Mace, Laticia Sanchez Bubongi, Laura Drummond, Leslie Chiu Barnes, Liliana Burnett, Luis Pablo Solorio, Mattea Sanders, Matthew Smither, Maria Martinez, Max Bing-Grant, Paul Jurado, Rachael Croft, Rana Wahdan, Rebecca Harris, Rebecca Sanfield Schatz, Richard Driscoll, Robert Bannon, Saidah Bennett, Sara Falk, Sara Waldron, Shayn Tierney, Tamara Di Paolo, and Zachary Graham. 
The application process for the 2015 PMF Program will begin this fall, and will be open to students and alumni who hold a master's degree, PhD, JD, or LLM earned between December 2012 and August 2015.