Professional News
Faculty Director Appointed for Full-Time MBA Degree Program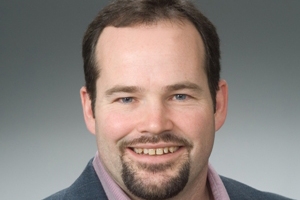 Associate Professor Mark Clark has been appointed Faculty Program Director of the Full-Time MBA. The leadership role is designed to ensure continuous improvement in Kogod's graduate programs.
Clark will provide leadership to the Full-Time MBA program, including oversight of curriculum, working closely with graduate program staff to enhance the Kogod MBA student experience.
"As a school, Kogod is building a strong and distinctive MBA program, one which produces students who want to make a difference in their organizations and communities," Clark said. "This is more important to me than simply adding a new responsibility to my job. It is about Kogod attracting strong faculty, staff, and students, listening to our employers and alumni, and creating a cutting-edge curriculum."
"I want to thank Professor Clark for his service to Kogod," said Dean Michael Ginzberg. "The Full-Time MBA is a critical part of our graduate portfolio, and this role guarantees the program has the faculty advocate it deserves."
Clark has taught graduate students exclusively for several years; he has seen commonalities among Kogod students, what motivates them, and their future career goals. Student groups discover ways of blending profit and purpose through classroom exercises, live consulting projects with area companies, and application of business lessons to their own organizations, Clark said.
For instance, Clark's Strategic Human Capital Management course emphasizes that successful organizations invest in their employees, resulting in sustainable benefits beyond a simplistic focus on a company's financial bottom line. "That is who we are, and who our students are," he said.
Clark's roots in liberal arts have frequently resonated with MBA students who are also career-changers. He holds a bachelor's degree in Psychology and English Language & Literature from Eastern Michigan University, a master's degree in Policy & Leadership through Ohio State University's Education and Public Policy schools, and a Ph.D. in Business Administration from Arizona State University.
He professed that his reasons for coming to American University twelve years ago were similar to those of his students: the opportunities provided by its prime location in Washington, D.C., the friendly campus, and the ability to have close faculty-student relationships.