On Campus
Citi's Transaction Services CEO: "We Have a Collective Responsibility" to Next Generation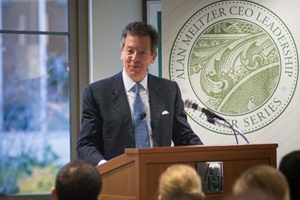 On November 13, Francesco Vanni d'Archirafi, BSBA '81 and CEO of Citi Transaction Services (CTS), spoke to the Kogod community on the importance of connecting sustainable business to progress in the real economy and how there is a collective responsibility to mobilize business for the good of all.
Speaking to a full audience of approximately 150 Kogod students, faculty, and staff, his presentation headlined this fall's Alan Meltzer CEO Leadership Speaker Series and was titled "The Perfect Storm: Why Corporate Social Responsibility and Responsible Finance Have Never Been More Important."
"I am a firm believer that businesses which embed sustainability in everything they do will be the stand-out winners over the longer term," said Vanni d'Archirafi. "Responsible Business is not just a moral imperative—I believe it is essential to be a part of the solution and core business engagement is fundamental to retain our license to operate. But we must accelerate the pace of change and we must recognize that it cannot be something remote from our daily activity. If we don't act and deliver in the short term—there simply won't be a long term."
Saying "social purpose and making money do not have to be in opposition to one another," he explained that Citi is determined to "turn green initiatives into blue, "by putting more back into the economy than it takes out."
Following the speech, Vanni d'Archirafi took questions from the audience about microfinance, job growth, and information security in his industry. He concluded with a challenge to the students preparing to enter the business world: "As you come out of school, you have a responsibility to be part of the solution."