Communications
NASA's Jenn Gustetic on What it Means to be an Entrepreneur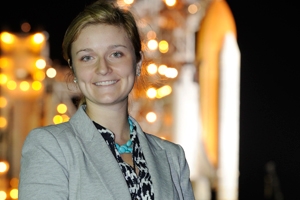 NASA executive Jenn Gustetic says that true entrepreneurs are driven by a desire to create something that will make a difference.
"An entrepreneur has a burning passion for a particular purpose and has the willingness to work themselves to death," Gustetic said during a recent forum at SOC.
"In intrapreneurship there are similar attributes where you have to believe in the project to be able to pitch it," she said. "But you also have to believe you have the skills in socialization and negotiation to be able to get something going from the inside."
Gustestic shared her insight at SOC's Dec. 5 DC Startup Forum, hosted by WAMU 88.5, the new MA program in Media Entrepreneurship and SOC's J-Lab: The Institute for Interactive Journalism. Gustetic was third in the speaker series aimed at budding intrapreneurs – those creating products inside an established company – and startup entrepreneurs.
Gustetic's job is to advise NASA's chief technologist about prize programs that encourage people outside of NASA to solve problems – anything from software development to creating new algorithms. Sometimes outcomes include developing new aircraft, or supplies for NASA's astronauts, such as special gloves to use during space repair. Private companies and individuals compete to win money and recognition, and sometimes to connect with NASA long term.
Working with NASA gives Gustetic an opportunity to work alongside engineers as well as help open up the channels that can carry an idea to fruition.
"I chose to work for the federal government because of the ability to make huge ripple effects," she told those gathered in Wechsler Theater.
"In government sometimes it feels like you are trying to move an elephant, but even moving that elephant an inch can make a huge difference," Gustetic said.
As an innovator and proponent of young people turning passions into careers, Gustetic shared her insight on how to make people listen to ideas and how to make those ideas turn into concrete results. In addition to being driven, she said it is important to finish what you started.
"You need to know your audience, know your stuff, and prepare to get what you asked for," Gustetic said during the conversation moderated by Jan Schaffer, executive director of J-Lab.
Gustetic suggested every entrepreneur should create a bold, online brand that has substance beyond the exterior. She reminded students and others in the audience that as important as it is to maintain a social and online presence, it is just as important to maintain a "record of doing" in the field. Developing relationships and trust with the people you are pitching an idea to is more important than a singular focus on money, she said.
Gustetic has been noticed for her work. In 2010, she was awarded one of DC's top "Power 30 Under 30" spots by the Apex Society, an international young professionals club.
Her aspirations were clear much earlier in life.
"Ever since I was a little kid I wanted to be an astronaut. Both my grandfathers were engineers and they would help me with my math after 7th grade when my parents no longer understood the math I was doing," she recalled.
Now, Gustetic values the opportunity to share her experience and insight with future innovators, especially women.
"Student outreach and encouraging education for science and technology careers is one area that NASA really cares about," she says. "From a personal perspective, it is important to me to encourage women to be interested in the field. It's important to highlight women role models in the field, and I think it's an honor to be able to share my experiences with aspiring students."