Science
Big Year for Science at AU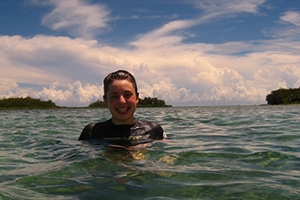 It was a banner spring awards season for College of Arts and Sciences students in the sciences, who won Fulbright and National Science Foundation grants for graduate work, as well as National Oceanic and Atmospheric Administration (NOAA) Ernest F. Hollings Fellowships, National Institute of Standards and Technology (NIST) Summer Undergraduate Research Fellowships, an Environmental Protection Agency Fellowship, and a Barry M. Goldwater Scholarship Honorable Mention for undergraduate study. 
"What makes this year so special is the range of recipients we had for prestigious science awards," said Paula Warrick, director of the office of merit awards. "Our science faculty did a great job of mentoring students and encouraging them to apply for these opportunities."  
In addition, dozens of AU students are spending the summer conducting science research. Their work will be supported by a wide range of institutions: NASA Goddard Space Flight Center, the National Science Foundation, Applied Research in Acoustics LLC (ARiA), the European Commission, the Max Planck Institute in Germany, and the University of Tokyo.  
"With the support of the College's stellar faculty, our students continue to win prestigious science awards and internships," said Dean Peter Starr. "It's a testament to the excellence and hard work of our students, and to the College's dedication to the sciences." 
Alyssa Frederick Braciszewski (BS marine biology '12)
National Science Foundation Graduate Research Fellowship
The National Science Foundation has awarded AU grad Braciszewski a stipend of $32,000 a year for three years, along with $12,000 towards graduate school tuition at the University of California, Irvine. Her research focuses on the nutritional physiology of marine organisms.  
While at AU, Braciszewski received a 2012-13 Fulbright Grant to New Zealand. "Alyssa possesses a unique combination of intelligence, curiosity, and focus," said professor of environmental science Kiho Kim, who assisted her with the Fulbright application process. "I felt incredibly fortunate to have worked with her and look forward to seeing how far she will go in her research career."

Ben Derby (BS physics '15)
National Institute of Standards and Technology (NIST) Summer Undergraduate Research Fellowship, Boulder
Honorable Mention, Barry M. Goldwater Scholarship
Derby, a physics major minoring in economics, will spend the summer in Boulder, Colorado, building a Raman spectrometer to measure graphene, a newly discovered "wonder material" that is expected to revolutionize the next generation of electronic devices.  
"Ben is a spectacular student," said Nathan Harshman, chair of the department of physics. "He has a bright future in material sciences, and he's already put together a portfolio of skills and experiences that will make him a formidable candidate for graduate school— and a great researcher once he gets there."  
Ben Gamache (BS biology '13)
Fulbright Grant to Spain
Gamache will travel to Spain where he will study the enzyme telomerase, and how it relates to aging and cancer, at the Spanish National Cancer Research Centers. While at AU, he worked with the National Cancer Institute to study genetic pathways in blood cancer, and after graduation he received a fellowship at the National Institutes of Health to continue this research.  
"Ben is an amazing student and well deserving of the Fulbright. He applied for two prestigious scholarships: the Fulbright to Spain, and a Deutscher Akademischer Austauschdienst (DAAD) scholarship to study in Germany," said professor of biology Katie De Cicco-Skinner. "He won both, and he decided to accept the Fulbright. In addition to his academic and research accomplishments, Ben is a natural teacher. He can explain complicated material to others, and he makes sure that his students understand the principles behind laboratory techniques."  
Daniel Pasquale (BS environmental studies '15)
Environmental Protection Agency Greater Research Opportunities (GRO) Fellowship
The fellowship, one of approximately 40 of its kind awarded by the Environmental Protection Agency this year, will provide $50,000 to Pasquale for tuition and travel as he works to monitor bacteria levels in the Potomac River. His goal is to determine the impact of combined sewer overflow events on the river's health.  
After graduation, Pasquale plans to continue his research and advocacy work on environmental issues. "He just doesn't give up," says Joan Echols, who helped Pasquale with his application essays in her capacity as Office of Merit Awards associate director. "And that's a really impressive quality, because there are so many distractions as a student." 
Valerie Rennoll (BS audio technology and physics '16)
NOAA Ernest F. Hollings Scholarship
Rennoll's scholarship will provide her with an $8,000 stipend annually during her junior and senior years, as well as financial support for a summer research internship with The National Oceanic and Atmospheric Administration (NOAA). She will study underwater audiology and marine acoustics, as well as other areas of applied audiology. 
"I was thrilled to learn I had been selected as a NOAA Hollings scholar," says Rennoll. "This opportunity will enable me to extend my learning beyond the classroom while also being part of a unique research experience." 
Also this summer, Rennoll will be interning at Applied Research in Acoustics LLC (ARiA), a DC firm of scientists and engineers involved in applied research for the development of prototypes and field-ready software and systems. She is working on the final development stage of WaveQuest, ARiA's underwater-acoustics education and training video game. 
Lindsay Wylie (BA international studies and mathematics '16)
NOAA Ernest F. Hollings Scholarship 
Wylie, who is majoring in international studies and mathematics, is interested in international environmental policy and its potential to prevent and mitigate natural disasters and extreme weather events such as Hurricane Sandy, which devastated her hometown in New Jersey. She hopes to eventually pursue a master's degree in environmental public policy. 
"I want to study global environmental politics in the future, and I am thankful that the Hollings Scholarship committee recognized my combination of majors as unique and relevant to NOAA's mission," says Wylie. "I hope to work on climate change, and I hope this experience will broaden my knowledge in the field and help me narrow down my career interests." 
Students also received the following awards: 
Anand Adhikari (BS biology '16) Killam Fellowship
Billie Case (BA environmental studies '16) NOAA Ernest F. Hollings Scholarship
Benjamin Friedel (BS biology '16) Killam Fellowship
Jessica Hirtenstein (BS mathematics and physics '14) National Institute of Standards and Technology (NIST) Summer Undergraduate Research Fellowship, Gaithersburg
Nadya Khapochkina (BS physics '14) National Science Foundation S- STEM Sustainable Engineering Graduate Scholars Program (SEGUE)
Chenoa Lee (BS environmental science and international studies '15) Public Policy and International Affairs (PPIA) Fellowship
Matthew Makowski (BS biology '12) European Commission Marie Curie Actions Fellowship, Netherlands
James Schwabacher (BS chem '15) National Institute of Standards and Technology (NIST) Summer Undergraduate Research Fellowship, Gaithersburg

Rachael Somerville (BA international studies and environmental studies '15) Udall Scholarship
Mark Verdi (BS applied mathematics '14) National Institute of Standards and Technology (NIST) Summer Undergraduate Research Fellowship, Gaithersburg