In the Community
Secretary of State Clinton Launches U.S.-Pakistan Women's Council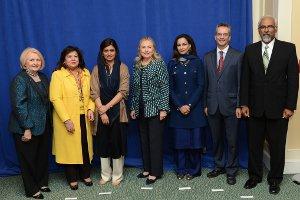 American University and the U.S. Department of State are co-founding a U.S.-Pakistan Women's Council, Secretary of State Hillary Clinton announced on Sept. 24.
The Council will be housed at AU and co-chaired by AU President Cornelius Kerwin and Ambassador-at-Large for Global Women's Issues Melanne Verveer.
"SIS was chosen to host the Council because of our commitment to advancing the condition of women and girls throughout the world," said Leeanne Dunsmore, associate dean for program development and graduate admissions. "We know that when women are educated, participate in the political process and are given opportunities to advance economically, they build a more peaceful and secure world for their children."
Rather than distributing grants or funds, the Council will support financially viable prospects for women and collaborate with other organizations, such as the Organization of Pakistani Entrepreneurs of North America (OPEN), a Pakistani-American nonprofit dedicated to entrepreneurship in the United States and Pakistan. Goals of the Council include training women in financial management, product development, market access, entrepreneurship and leadership.
"We are excited to host the U.S.-Pakistan Women's Council at SIS," said Dean James Goldgeier. "We have many students and faculty interested in development, human rights, gender issues and social enterprise, and their experience and enthusiasm will be critical to the Council's success in supporting economic opportunities for women in Pakistan."