On Campus
Adjuncts Find Reward in Returning to the Classroom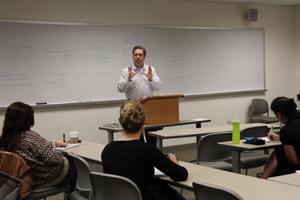 Maintaining a full-time career while also teaching college courses can be a difficult balancing act. Adjunct instructors at Kogod eagerly take on this commitment, as it gives them the opportunity to pass on their real world insight to their students. Many of these adjuncts are Kogod alumni who have come full circle, now teaching in the same classrooms they once filled.
› Management
Paul Thaler, a partner at Thaler Liebeler LLP, came to Kogod with years of teaching experience—a passion he discovered early on.
Thaler was a tutor in high school and continued teaching as an undergraduate at Vassar College in Poughkeepsie, NY.
While in law school at Georgetown, he merged his love of law and education to help jail inmates pass a high school equivalency exam. He also guest lectured at George Washington University's Law School, prior to joining the Management department at Kogod.
He now teaches MGMT-201 Global Corporate Citizenship, a class focused on business law and ethics.
Thaler explained that adjunct instructors provide real-world experiences as examples, illustrating points and lessons sometimes in a very colorful way.
"During nearly every class, I bring into the discussion a case I had or something I've seen to help shed light on a difficult law concept," Thaler said.
› Information Technology
Michael Lamoureux, MBA '09 and instructor of ITEC-200, Edge of Information Technology, could not agree more.
"I enjoyed being taught by adjuncts while I was in school, and I hope that I make the same impression on my students," Lamoureux said. "Any real world example you can use further legitimizes the material you are teaching. I think this makes an impact with the students, rather than solely relying on theory."
Lamoureux, a health information technology architect and management consultant, has worked with the National Institutes of Health as a developer for an HR system. He's also consulted on various projects that involve field data collection for the National Children's Study, which examines the health effects of the environment on children.
He currently supports NIH through Octo Consulting Group, where he develops standards for emerging technologies such as cloud computing.
Yet returning to higher education has been a goal for many years.
"The environment in the academic community is so special, you can't help but want to be a part of it," Lamoureux said. "I feel like I grow and learn personally and professionally in this environment."
› Accounting
Nick Realmuto, BSBA/BS '07, also saw a quick return to academia after graduating from Kogod. As an upperclassman, he served as a Supplemental Instructor— a student leader who excels in a particular course and hosts group study sessions to help other students. . An active member of the Accounting Club, Realmuto kept in contact with his accounting professors following graduation. He was asked to teach ACCT-240 Principles of Financial Accounting in Spring 2011, and has taught it every semester since.
Realmuto began his career as an Audit Senior for Deloitte & Touche, where he assisted in auditing the loss of Fannie Mae during the sub-prime mortgage crisis. In 2010 he began work at the National Cooperative Bank, where he now works in the accounting operations department, overseeing allowances for loan offers.
Realmuto feels his experience has made it easy for him to show his class real-world examples of accounting in practice, saying, "I've done everything I teach."
At work, he became "used to talking to people who don't have advanced degrees in accounting," which made for an easy transition into teaching.
› Finance/Real Estate
Robert Lipnick claims he "didn't know a thing" about the business world prior to arriving at Kogod.
A pediatric rheumatologist for 30 years, most of Lipnick's career was in the health care world. It wasn't until he became more active in his family's real estate development company, South Decatur Inc., that he decided to take some business courses at Kogod, eventually completing his MBA in 2005. Since then, he has been teaching real estate courses to graduate students.
Lipnick has been particularly interested in the development of green buildings. He currently teaches REAL-736 Urban Planning and Sustainability, and has helped alter the real estate curriculum to include topics on green development.
Always an advocate for the importance of interpersonal relationships, Lipnick has used his professional network to connect his students with successful players in the real estate industry.
He is the chair of Kogod's Real Estate Advisory Council, a group of industry practitioners dedicated to providing students with the most up-to-date tools that the real estate market demands. "By knowing a lot of people out in the real world, I can bring the students out of the classroom and into a real life setting," he said.
Lipnick credits his students for keeping him stimulated and motivated to further his career. When asked how long he sees himself continuing to teach, he said "I'll stop teaching when I stop learning."