Achievements
Prestigious Award, Presidential Internship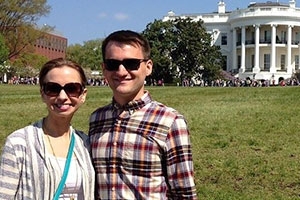 Chris Jasinski, graduating School of Communication senior, who in his four years at American University has exemplified success in academics, service and leadership, was awarded the University's prestigious 2014 Student Award for Outstanding Scholarship at the Undergraduate Level. Jasinski will graduate Saturday, May 10 at 9:00 a.m. in AU's Bender Arena. Award-winning journalist and TV personality, Katie Couric, will speak at the SOC commencement ceremony.

In his time at AU, Jasinski, a first-generation college graduate, has compiled an impressive record of success, including a prominent Dean's Internship with USA Today, serving as an integral member of AU's U.S. Department of Energy Solar Decathlon team, and is currently working as an intern for the Office of the First Lady.

"Jasinski's work reflects exemplary scholarship and is a testament to the values and mission of the School of Communication. His success demonstrates SOC's work to integrate traditional academic studies with real-world experiential learning and professional practice," said Dean Jeffery Rutenbeck.

Jasinski shared with SOC details on his current internship with the Office of the First Lady, how his time at SOC helped prepare him for the experience, and what's next for him post graduation.

Q: As an intern for the Office of the First Lady, what specific projects or initiatives have you worked on?
CJ: I work in the Office of Scheduling and Advance which means I help with responding to invitations from constituents, and help the staff prepare for the First Lady's trips and events. I have had the pleasure of helping with events under the Let's Move! and Joining Forces initiatives, as well as the First Lady's new education initiative, Reach Higher.
 
Q: What is your most memorable experience as a White House intern thus far?
CJ: The First Lady held an early screening for The Muppets Most Wanted for military families. Each of the kids got to have their photo taken with Kermit The Frog. As the first child stepped up to take the photo, he gave Kermit a big hug and told him, "Kermit, this is a dream come true!" It was one of those magical moments where I witnessed first-hand the impact the First Lady has on American citizens, old and young.
 
Q: How did your AU/SOC experience prepare you for the internship?
CJ: In the office, a lot of things can change very quickly. My education has also helped me to be flexible and quick on my feet. The School of Communication provided a faculty and curriculum that allowed me to develop a range of skills and knowledge. This is an absolute asset in such a fast-paced, ever-changing environment like the First Lady's Office.
 
Q: What is your biggest takeaway from the experience?
CJ: You should always demand excellence from yourself, and make a habit of it. Setting a high bar for your work helps to be efficient and effective in everything you do.
 
Q: What advice would you give to other students?
CJ: The best advice I can give to any student is to be friendly. Your work is always important, and it often means staying focused on your work and what is in front of you. Still, it is important to remember that a smile or a quick "Hello" can go a long way.
 
Q: What's next for you, post graduation?
CJ: Starting in August, I will be attending the University of North Carolina at Chapel Hill as a Roy H. Park Fellow in their Mass Communication program. While I am excited about the change in scenery and getting to go back to my home state, I am sure I will miss my time in DC. I'm not yet counting out the idea of coming back to the District.

Jasinski will accept his award, in person, at President Kerwin's Awards Program and Reception on May 9.