Student Life
A Month to Celebrate
September 15 through October 15 is National Hispanic Heritage Month. It's a time to celebrate the rich and vibrant culture of Hispanic or Latino Americans. At American University, Latino students have made enormous contributions to campus life. Plenty of bright, engaged Latinos are making an impact at both the university and in the larger community. These students are proud of where they came from and excited about where they're headed.
Heritage and Upbringing
Carlos Vera was born in Colombia, but his family jettisoned the area over escalating violence perpetrated by the insurgent group FARC. They relocated to Southern California and Vera went to high school in Hesperia in San Bernardino County. AU gave him scholarship and grant money to attend. He also joined the Army Reserve, which helped him with loan repayment and expedited his citizenship process. (He became a citizen in 2012.)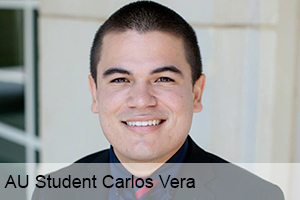 "The reason why I want to do politics is really to help people have more of a voice, not just Latinos but for the lower socio-economic classes," says Vera. He hopes to be an advocate for a variety of educational programs. "I'm a former Upward Bound member and I'm a Pell grant recipient. These are programs that I want to continue fighting for because I've benefited from them."
It's a classic pursuit of the American dream. Millions of working class Latino parents put in long hours and multiple shifts to enable their children to attend college. And these stories are not unusual at AU, either. The Center for Diversity & Inclusion (CDI) has a program for students who were the first in their families to get the university experience.
Yet Melina Hernandez climbed an even steeper hill: She was the first person in her family to attend high school. She grew up in the Sunset Park section of Brooklyn, where her mother works in cleaning services and her father is in construction. They both emigrated from Mexico.
"I take so much pride in where I come from, who I am, what my parents have been through," says Hernandez, a sophomore political science major and history minor. "I'm first generation at everything—learning English, going to high school, going to college, moving away from my parents."
Hernandez is eternally grateful for the sacrifices her family has made. "At the end of the day, I just want to reward my parents for these past 19 years of support."
Jose Luis Vasquez hails from a Texas border town in the Rio Grande Valley, and he's spent a lot of time in the United States and Mexico. Growing up, he learned English, Spanish, with the occasional mixing of the two languages. From a family of small business owners, he describes his upbringing as more "blessed." But he lived near impoverished communities of mostly Mexican immigrants in Texas. "People are living in little subdivisions where they don't even have a mobile home. It's like a little shed, and their floor is dirt—it's not even like tile or anything," he explains.
After high school, Vasquez made the journey to AU. And he still warmly recalls the marathon drive from Texas to Washington in his family's Ford Excursion, just before freshman year. "It was long, but I knew my parents felt super proud," he says. "It was the best memory of my life so far."
Capitalizing Every Opportunity
Latino students on campus are making the most of their educational opportunities. Vasquez, a sophomore economics major, interned for Rep. Joaquin Castro, D-Texas—recently labeled a rising star by Politico. Over the summer in Texas, Vasquez helped out on the gubernatorial campaign of Democrat Wendy Davis.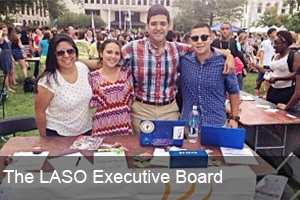 Vera's hard work is paying off. He's a senior political science major and he's already taking classes towards his master's degree from the School of Public Affairs. Through a State Department scholarship and an AU mobility grant, he worked as a legislative assistant in the European Parliament for Slovak member and former NHL player Peter Stastny. Vera credits AU for opening up multiple avenues for success. "This has allowed me to see that I can do much more than I ever thought I would," he says.
Hernandez, who is now vice president of the Latino & American Student Association (LASO), is planning to pursue a career in immigration law and politics. She's taken advantage of the D.C. location, attending functions sponsored by the Congressional Hispanic Caucus Institute and the Embassy of Mexico.
Strength in Numbers
With a fast-growing demographic, Latino political clout is expected to skyrocket in the coming decades. And this population has grown at AU as well. The number of degree-seeking Hispanic undergraduate students has increased from 539 in fall 2011 to 767 in fall 2014. And the Hispanic percentage of the undergraduate student body has climbed from 7.9 percent in fall 2011 to 10.8 percent in fall 2014.
Several students praised the work done by the Center for Diversity & Inclusion. "They host a bunch of events that unite many cultures, not just Latinos," says Alex Garcia, a sophomore double majoring in political science/law and society.
Garcia is also the current president of LASO. A first-generation college student and the son of Salvadoran immigrants, he talks about the common bonds forged at AU. "I thought that I would be the only one with this background, and I'd be going through this alone. But I went to CDI and I went to some of the LASO meetings, and I found out I wasn't. There's a group of us."