Academic Support
Student-Athlete Support Program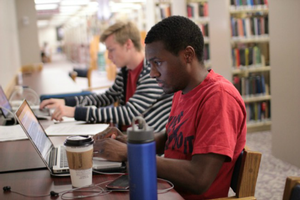 The Student-Athlete Support Program provides academic support for all AU student-athletes.
Individual Meetings with a Support Counselor
Student-athletes may meet with a staff member on a weekly or as needed basis. In an individual appointment students can learn new techniques for specific academic skills such as reading, note taking, exam preparation and writing. Individual meetings can also support students with a disability or ADHD.
Individual meetings are a proactive program, which identifies student-athletes who may confront a variety of challenges either in their transition to AU or as upper class students. Students use meetings to develop their general life skills, such as time management, prioritizing and creating balance. 
Tutoring
The Nest also provides individual peer tutors for student-athletes. A student should contact The Nest at nest@american.edu to request a tutor as soon as there is a concern about course material. 
Students are always encouraged to use professor office hours for support. In addition to individual tutoring, referrals to other campus resources, such as the Writing Lab, the Writing Center, Supplemental Instruction and the Mathematics & Statistics Tutoring Lab may be provided.
Study Hall
All first-year and transfer student-athletes are required to attend study hall in the library during their first semester at American University. Once student-athletes demonstrate successful academic progress, as defined by their team, student-athletes manage their own study time. At any point in their academic career, students may again be required to attend study hall if their grades fall below team standards. 
Progress Reports
At mid-semester faculty members are asked to indicate the students' progress and current grade. Progress reports are shared with student-athletes and coaches.

Priority Registration

Beginning with the second semester of enrollment, student-athletes receive priority registration. When student-athletes register early, class and practice conflicts can be minimized. Student-athletes must follow all registration procedures set by their academic unit. 
Course Registration for Your First Semester

In May you will receive information to help guide you in selecting your courses for your first semester. During summer orientation you will meet with your academic adviser in your academic unit to review your course selection and make any necessary changes. The Nest also provides your name and practice schedule to your adviser so that he/she can help you arrange a class schedule that does not conflict with practice. The Nest is also available to assist you.
Class & Competition Conflict
New students often ask, "Will I miss class for team competition?" Sometimes that is unavoidable. Student-athletes do their best to register for classes that limit the number of absences required for competitions.  
At the beginning of each semester, The Nest provides letters for student-athletes to give to their professors with the travel schedule their sport. The letter provides a basis for a student-athlete's discussion with each professor about potential academic/athletic conflicts.
When an absence occurs, it is the student-athlete's responsibility to follow up about the missed class session and get notes from a classmate. 
Student-athletes are expected to turn in papers before leaving for team travel or make arrangements with the professor to turn it in electronically. If a student-athlete is going to miss an exam due to team travel, they must discuss it with the professor prior to the scheduled exam date. If the professor prefers, The Nest can proctor the exam provided that arrangements are made prior to the student-athlete's travels.
Accessing Accommodations for a Disability or ADHD
All students who need to access accommodations for a disability or ADHD must provide documentation of a disability. Documentation requirements are on the main ASAC webpage.  
Students are strongly encouraged to submit their documentation before arriving on campus. Once on campus, students must set up an appointment with an ASAC counselor to review the accommodations necessary and learn about procedures for setting up exam accommodations.