Prospective Student-Athletes
Student-Athlete Support Program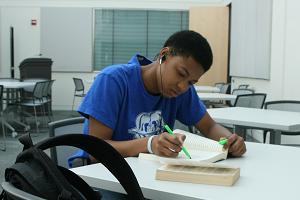 The Student-Athlete Support Program, also known as The Nest, is a service of American University's Academic Support and Access Center in collaboration with the Department of Athletics.
The staff assists student-athletes as they work to reach their academic, athletic, personal, and social goals, while also promoting excellence, responsibility, and personal initiative. Connecting students to the rich resources and facilities at American University, the focus is on the development of the total person.
The Student-Athlete Support Program is oversees the academic support and life skills programming for all AU student-athletes.

Academic Support
Academic support is offered to all student-athletes. Students can meet individually with an academic support counselor to refine academic skills, build a time management plan, and review current progress in courses.

Tutoring, study hall, progress reports, and priority registration are all elements of the Student-Athlete Support Program. 
American University expects students to perform well in the classroom, as well as in the athletic arena. Student-athletes are encouraged to meet with the staff at any time to pursue academic excellence. 
Life Skills and Student Development
The transition to college can present students with a number of challenges in and out of the classroom. The Student-Athlete Support Program's Life Skills and Student Development program is designed to support students' developing leadership, decision making, and professional skills. 
From communicating with professors, to searching for an internship and job, these skills can make a difference.