Questions?
Academic Support & Access Center
202-885-3360
Fax: 202-885-1042
asac@american.edu
Mary Graydon Center, Room 243


Monday-Thursday 9:00a.m. - 7:00p.m. Friday 9:00a.m. - 5:00p.m.
Mailing Address
Repeat PL Scholar-Athlete of the Year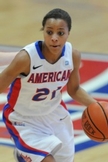 Alexis Dobbs named Patriot League Scholar-Athlete of the Year for Women's Basketball in both 2012, 2013, and 2014.

45.7
%
of student-athletes earned a 3.5 GPA or better in the fall 2014 semester.
Time Management Tools

Time management is key for success in college. The Academic Support and Access Center's time management section helps students organize and prioritize.