Syllabus Statement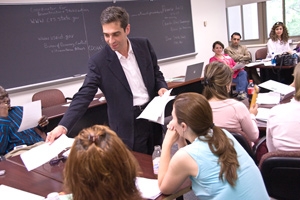 As a faculty member at AU, you are encouraged to give notice to students with disabilities about your availability to work with them. In addition to making your materials and your classroom as universally-designed as possible, e.g., having closed captioning on all videos, providing materials that can be accessed by screen-reading software, assessing students with a variety of methods, some students may require testing or classroom accommodations. 
Please include the following notice in your syllabus, which invites students with disabilities to approach you with accommodation requests and gives students the information they need about the office on campus that verifies disability needs to faculty.
Students with Disabilities
If you wish to receive accommodations for a disability, please notify me with a letter from the Academic Support and Access Center. As accommodations are not retroactive, timely notification at the beginning of the semester, if possible, is requested. 
If you would like to let students know about the academic support resources available at AU, please consider including the following statement in your syllabus.

Academic Support
In addition to meeting with me and using the resources available in this department, all students may take advantage of the Academic Support and Access Center for individual academic counseling, skills workshops, tutor referrals, Supplemental Instruction, and writing appointments. Additional resources that may be beneficial in this class are ... [Bender Library, the Department of Literature, the Department of Mathematics & Statistics, IT, CTRL.......]
Academic Support and Access Center
MGC 243
www.american.edu/asac
202-885-3360
asac@american.edu