Services for International Students in the ASC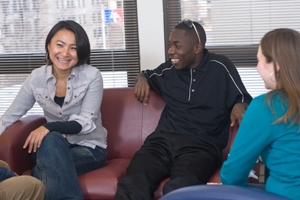 The Academic Support Center has several resources available to international and multilingual students, including individual instruction, group study skills workshops, tutor referrals and writing support. 

Individual Instruction
The Academic Support Center has a counselor who works specifically with international students to help them gain the necessary skills for success at AU. Students can meet with the counselor for international students for individual instruction in academic skill areas and to ease the transition to academic culture in the United States. Topics may include time management, textbook reading, note taking, classroom presentations, and preparation for exams, as well as adapting to higher education in the U.S., both in and out of the classroom. Appointments can be made in person in Mary Graydon Center 243 or by calling 202-885-3360.
Group Study Skills Workshop Series
A variety of workshops are offered each semester by Academic Support Center staff, including writing workshops for international students. A workshop schedule is available online and in the ASC office.
In addition, a series of weekly workshops focusing on classroom participation for international students is offered each fall semester. Enrollment is limited, and interested students can schedule an appointment with the counselor for international students to discuss registering for the workshop.
Tutor Referrals
The ASC counselor for international students can make referrals for English language study with peer or professional tutors. Students are responsible for all tutorial fees, which may vary based on the tutor's teaching experience. Course content tutors are peer students with expertise in specific disciplines who offer to tutor students in most academic areas. They charge a modest fee ($10 - $12 per hour). The counselor for international students or the Tutoring Services coordinator can provide referrals for peer tutors. Tutor request forms are available online and in the ASC office.
Writing Support
The Academic Support Center's Writing Lab offers over 75 hours of appointments weekly with writing counselors who are specially trained to work with non-native English-speaking students. Students can sign up for one or two sessions per week in Mary Graydon Center 243.