Now Hiring Intergroup Dialogue Facilitators Applications due November 19
Facilitators are trained students who lead the Intergroup Dialogue programs throughout the seven week period. They have a unique opportunity to gain skills facilitating identity-based conversations. This is a paid position and CDI provides training.
Facilitating is a six hours a week commitment and pays $14/hour. Interested? Applications are due NOVEMBER 19, 2017.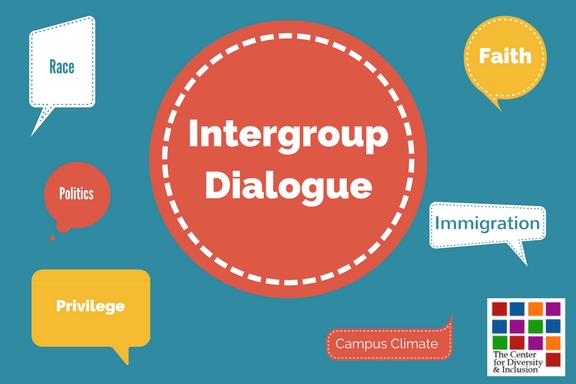 Intergroup Dialogue Logo
0:26
Intergroup Dialogue is a seven-week program that provides a unique learning opportunity for AU students to engage on a range of identity topics including but not limited to: race, ethnicity, gender, class, sexuality, and faith. Housed in the Center for Diversity & Inclusion, dialogues are intergroup, gathering people from multiple backgrounds and identities for sustained, ongoing dialogue for two-hours each week.
Goals of Intergroup Dialogue
Engage across difference of perspective and identity
Foster intergroup community through a diversity of identities
Explore personal experience and societal issues
Provide tools for navigating difference on and off campus
Gain skills facilitating identity-based conversations. This is a paid position and we provide training.
Facilitator applications are available now and are due November 19, 2017.
Apply Here
Have questions? Contact Michelle Strange, CDI's Coordinator of Dialogue and Diversity Programs.

Registration is available the first day of classes Spring Semester.
Every semester individuals with diverse lived experiences and perspectives engage in Intergroup Dialogues that are about a variety of new and recurring topics. Fall dialogues are typically early October to mid-November. Spring dialogues are typically late February to mid-April. Applications are available the first week of classes each semester.
Faculty can support Intergroup Dialogue by:
Promoting participant and facilitator applications to your students.

Offering course credit for your students' participation in Intergroup Dialogue.

Serving as an Intergroup Dialogue faculty advisor. Advisors meet with facilitators weekly (electronically and/or in-person) during the seven-week program to help them process and plan their sessions.

Email dialogue@american.edu to be added to the Intergroup Dialogue faculty supporter list to receive information about any of the above.
Past Intergroup Dialgoue topics include:
Latinx Issues and Experiences
Politics: Post Election Impact and Climate
Gender, Race, and Mental Health
Religion: Bias and Inclusion