LGBTQ Graduate Student Outreach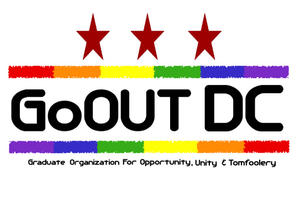 The Center for Diversity & Inclusion provides some opportunities for LGBTQ graduate, law, and PhD students to connect with one another. This is primarily done through collaboration with GoOUT DC.
GoOUT DC - the Graduate Organization for Unity and Tomfoolery in the DC Metro Area - was founded in 2011 by Jacob Wilson and Kristin Rubisch. Both were graduate assistants at, what was at the time, the GLBTA Resource Center. GoOUT DC promotes social events with LGBTQ graduate, law, medical, and PhD students from the major universities in the greater DC metro area. 
Other members of GoOUT DC, in addition to the Center for Diversity & Inclusion, include George Mason University's GradPride, George Washington University's Allied in GradPride, and the University of Maryland's GradPride. Georgetown University students also attend some GoOUT DC events.
At this time, GoOUT DC hosts one social hour per month during the academic semester. They also establish an easy point of access between the member organizations to promote additional events during the semester.

For more information about GoOUT DC and its events, please contact the Resource Center or check out their Facebook page.
Additional Opportunities for LGBTQ Graduate Students
In addition to GoOUT DC, LGBTQ graduate students can get involved with various programming initiatives within the Center for Diversity & Inclusion. Graduate students are always welcome to help plan heritage & history months throughout the year. The Center also invites LGBTQ graduate students to become an RSB speaker and/or a Safe Space facilitator. Please contact the Director of the Center for more information or start volunteering.