Student Organizations & On-Campus Resources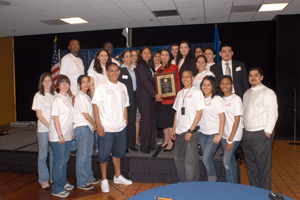 Here are a few of the student organizations that work with the Center for Diversity and Inclusion. New clubs are formed every semester! Each organization has its own listserv for information distribution and communication among members. If you are interested in joining any of the clubs and/or subscribing to their listservs, simply click on the name of the club and send an e-mail message to the listserv (listed in alphabetical order).
For more information on the 200+ Student Organizations please contact Student Activities at (202-885-3390) and visit their website at http://www.american.edu/ocl/activities/.
African Students' Organization
African Students' Organization is an organization that shines light on the cultural diversity of the African continent through educational events. We strive to engage the AU community in matters concerning Africa, its challenges and progress. We welcome all students irrespective of their cultural background.
Asian American Student Union
AU Asian American Student Union is a club/organization at American University with the goals to promote cultural awareness and diversity of Asian Americans and Asians-related issues at American University,provide a space for communication on issues of interest to the members and the local community, serve as a representative voice for American University's Asian American community, act as a liaison between American University's Asian American community and the Asian American community outside of AU.

Black Student Alliance
One of the strongest and largest student organizations on campus, Black Student Alliance is a well established organization that has asserted its voice on numerous issues affecting the black community at AU. Comprised of a diverse group of Multicultural undergraduate students, primarily African American, BSA organizes events on-campus programming year-round and serves as a strong network for students.
Caribbean Circle
A club for students from the Caribbean area, Caribbean Circle is a club full of life and energy. Members participate in various cultural festivals throughout the year and provide a network of support for Caribbean students.
Lambda Law Society
This organization of GLBT law students, faculty, and staff is available as a source of friendship, support, public education, advocacy, and activism at the Washington College of Law. Events include speakers on the current state of GLBT law, presentations on being out at work and in the job search, as well as informal discussions of topical issues, social gatherings, and advice on navigating the intricacies of law school.

Lambda Pi Chi Sorority, Inc.
Latinas Promoviendo Comunidad/Lambda Pi Chi Sorority, Inc. was ounded at American University in 1996 to empower women by providing a supportive network dedicated to their personal and professional advancement. Their Hermandad is further advanced by our shared dedication and promotion of public service and cultural awareness, with an emphasis on Latino history, contributions, and experiences.

Latino and American Student Organization
The largest Latino organization on campus, the Latino and American Student Organization has been a strong voice for the Latino students at AU. Besides working with our office in programming for the Hispanic Heritage Month, LASO successfully organizes the Latino Youth Conference, a large-scale conference for high school and college Latino youths.
National Pan-Hellenic Council (NPHC)
The National Pan-Hellenic Council, Incorporated (NPHC) is the governing body for the nine (9) historically Black Greek letter Sororities and Fraternities. NPHC promotes interaction through forums, meetings and other mediums for the exchange of information and engages in cooperative programming and initiatives through various activities and functions. The Greek organizations that are involved on AU's campus include:
· Alpha Phi Alpha Fraternity, Inc.
· Alpha Kappa Alpha Sorority, Inc.
· Kappa Alpha Psi Fraternity, Inc.
· Omega Psi Phi Fraternity, Inc.
· Delta Sigma Theta Sorority, Inc.
· Phi Beta Sigma Fraternity, Inc.
· Zeta Phi Beta Sorority, Inc.
· Sigma Gamma Rho Sorority, Inc.
For more information on these Greek lettered organizations and many more visit Greek Life.

Queers and Allies
AU Queers and Allies is a university-recognized, student-run organization created to help lesbian, gay, bisexual, and transgender students find common ground and form community within the university setting. AU Queers and Allies provides a safe and fun environment for students to explore their identities, make new friends, and learn about the diversity within the gay, lesbian, bisexual, and transgender communities.
Student Advocates for Native Communities
Student Advocates for Native Communities is an organization that seeks to raise awareness about indigenous communities and the issues they face. We aim to expose the American University community to the culture and traditions of indigenous peoples, as well as the political complexities surrounding them.
South Asian Student Alliance
The South Asian Student Alliance is a club primarily for students of South Asian descent, American or international. They have organized many cultural events to educate the campus about the South Asian culture and worked with our office and ASA to assist with Asian Pacific American Heritage Month programming.
Women's Initiative
Women's Initiative is a non-partisan, inclusive department of the Student Government that helps coordinate and advise campus departments and committees on programming and policy decisions that affect the women students, faculty, and staff of American University.