Volunteering Opportunities
g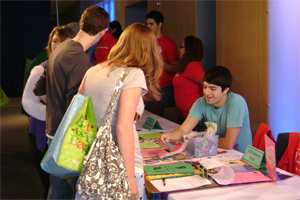 The American University Center for Diversity and Inclusion offers opportunities to volunteer directly (e.g., working in the Center) to AU students only. Faculty, staff, and community members are encouraged to volunteer by donating their time to give a workshop, host an event, or lead a discussion.
Volunteer FAQ's
Why would I want to volunteer?
The Center for Diversity and Inclusion is an exciting place that advocates for all students, with specific focus on the experiences of LGBTQ, multicultural, first-generation, and women students at AU. You can be a part of this important service by volunteering at the Center, where you will have the opportunity to develop your own talents and work with people who are energetic, fun, and committed to making positive change. The environment is dynamic and friendly, and volunteers receive excellent training in issues affecting the communities which we serve. In addition, volunteers have the opportunity to develop job-related and interpersonal skills and to become a leader in the community. Many professional programs (such as medical school) require volunteer hours. Some Greek organizations also require service hours to be fulfilled. This is a great way to complete those hours and contribute towards building community at AU simultaneously. All are welcome to volunteer at the Center.
What can I do as a volunteer?
You can work in the following areas:
Library: Write library reviews on books and dvds we have in the library. We put those reviews up in the Center and online.
Rainbow Speaker's Bureau: Become a panelist for our Rainbow Speaker's Bureau (RSB) Program. Panelists are asked to go through a training and then participate in a few RSB panels a semester.
Safe Space Sticker Program: Become a Safe Space facilitator. Those interested are asked to go through a facilitator training and observe a Safe Space Sticker workshop before facilitating.
Spectrum Advisor Project: Become a Spectrum Advisor and help prospective students get a better understanding of GLBT life at AU. Spectrum Advisors are asked to go through a training and communicate with prospective students throughout the year.
SpeakOUT: Become a facilitator for our monthly SpeakOUT program. This program is a student-run discussion group open to people of all identities that covers a variety of topics surrounding intersection of identities.
Heritage Month Celebrations: Volunteers can help us develop publicity and staff Center events. Specifically, opportunities will arise as we plan our Latino Heritage, LGBT History, American Indian Heritage, MLK, Black History, Women's History, and Asian American and Pacific Islander Heritage Months.

The Center will also occasionally ask for volunteers for some of our other events through our listserv.
If you want to volunteer with any of the above programs, please contact the Center for Diversity and Inclusion via email or by calling 202-885-3651.
---