Gender & Sexuality Library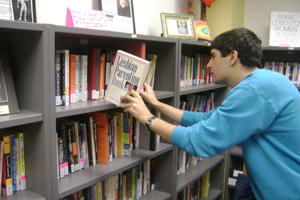 Center for Diversity & Inclusion
The Gender & Sexuality Library in the Center for Diversity & Inclusion is a satellite branch of the Main Campus Library. Our collection is searchable through the Main Campus Library catalog search. All you need is your AU ID, and you can check out or use in the resource center any book, magazine, or dvd in our library. For information on library policies, visit the Main Library/Center for Diversity & Inclusion Partnership page.
We have a large collection of gay, lesbian, bisexual, and transgender literature in the Center. We have books, magazines, and DVDs that are available to be checked out to any American University student, staff, or faculty member or used in the office if they are non-circulating items. We welcome suggestions for new books - just contact us and let us know what you'd be interested in or fill out our form below. We are always looking to expand our library, so if you have LGBTQ literature or related material you would like to donate, please contact us or stop by our office. Contributions to our library are tax-deductible to the extent allowed by law.

Search the Center's Library
Suggestions for the Gender & Sexuality Library
Please use the form below to make a suggestion for our Library.