Counseling and Other Services
Counseling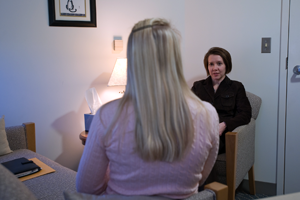 Photo by Jeff Watts
Whatever your concerns, a confidential conversation with a Counseling Center clinician is a good place to start. A clinician can help you sort out your situation, your feelings, your options, and resources that might be of help to you. If the support you need is not available on campus, a clinician can help you locate and connect with maximally appropriate, affordable, accessible resources off campus. 
Students seek counseling for a wide variety of concerns. For example, you may have concerns about relationships with family, friends, roommates, or other important people in your life; sex, sexual identity, or sexual orientation; feelings of anxiety or panic; life decisions or direction; feelings of depression, hopelessness or suicidality; eating, weight, or body image; drug or alcohol use; performance or creative blocks; achievement and motivation; self-esteem; adjusting to college; adjusting to a new language or culture; coping with a psychological or physical illness or disability; or coping with traumatic events or memories. Also, if you began counseling or psychiatric treatment at home or while away from campus you may want to arrange continuing treatment now that you are here.
Counseling is confidential, protected by law and by ethical standards. For more information about confidentiality, feel free to call and speak with a clinician on the phone or read our confidentiality page. There is no charge for counseling or consultation.
If you have questions about counseling, try reading through our list of FAQs, look up "psychotherapy" links on our Self-Help page, or call us and ask to speak with one of our mental health professionals. 

TO MAKE AN APPOINTMENT: 

Call (202) 885-3500 or stop by the office in MGC 214 9:00 a.m. - 5:00 p.m. Intake appointments are scheduled between the hours of 10:00 a.m. - 4:00 p.m. weekdays.


AVAILABILITY OF SERVICES:

Consultations, workshops, and crisis interventions are always available at the Center, to all students.
Self-help resources are always available to all students in the Self-Help section of this web site. In addition, the Self-Help Library of handouts, binders, pamphlets and other materials is available in our reception area during the hours the Center is open.
Group counseling is offered every semester. Groups generally have a minimum of four and maximum of nine participants who are admitted to the group by the group leader. A Counseling Center cliniciancan help you determine your eligibility for group counseling, and your alternatives if there is not a suitable on-campus group.
Ongoing counseling is readily available with private practitioners in the area, and a Counseling Center clinician can help you get connected with an off-campus clinician who is maximally appropriate, accessible, and affordable for you. To get the referral process started, call for an appointment with a Counseling Center counselor. The availability of ongoing counseling on campus (rather than off campus) is very limited and often provided by graduate clinical trainees. On-campus counseling is assigned on a first-come basis only to full time students who do not need more immediate, extensive, intensive, or specialized services than can be provided at the Center. If you are eligible for ongoing counseling on campus at a time when there are no on-campus hours available, you may choose to:

(a) wait until an on-campus hour that fits your schedule becomes available, or
(b) begin off-campus counseling immediately.

YOU NEVER HAVE TO WAIT FOR COUNSELING -- referrals to ongoing counseling off-campus are always available.