Groups Offered - SPRING 2014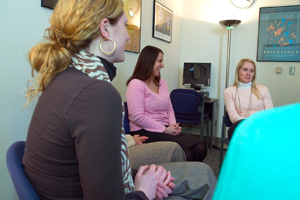 Photo by Jeff Watts













Groups provide a caring context in which you can talk confidentially with other students who share your concerns or experiences. A group can be a wonderful source of feedback, support, good humor, and creative ideas for how to cope with personal or interpersonal challenges. All groups are conducted in confidence, and are led by Counseling Center clinicians.

If you are interested in participating in a group, please contact the Counseling Center as early in the semester as you can. Unless noted, students are required to register for groups before attending. If you have ideas for an additional group that would interest you, please let us know!

For more information, select either of the following links:
Is Group Therapy Right for Me?
Common Myths, Mysteries, and Misperceptions

Groups Offered:
SPRING
2014
Therapy Groups

"Understanding Self & Others"

These insight-oriented groups will provide with a safe environment for interpersonal learning. Members will have an opportunity to explore thoughts and feelings that get elicited in all types of relationships, understand relationship patterns (especially in the areas of trust, intimacy, anger, and assertiveness), receive feedback from other members, and practice "trying on" new behaviors in the safety and "social microcosm" of the group.

Group 1: Mondays, 2:35-3:50 pm (Leaders: Ana Buenaventura, Psy.D., Lori Kinkler)

Group 2: Mondays, 4:00-5:15 pm (Leaders: Michael O'Heron, Ph.D., Natalie Rusch)

Group 3: Tuesdays, 4:00-5:15 pm (Leaders: Amanda Rahimi, Ph.D., Daniel Birichi)

Group 4: Fridays, 3:00-4:15 pm (Leaders: Traci Callandrillo, Ph.D., Sandra Hogins)


"Stress Management Group"

During this 8-session group, members will learn how to recognize signs of stress, and how to reduce stress through relaxation and visualization, mindfulness meditation, and other cognitive coping strategies.

Thursdays, 4:00-5:15 pm, Dates TBA (Leaders: Charrise Hipol, Psy.D., Daniel Birichi)

"Men's Group"
Men learn to process emotional arousal through their unique socialization experiences as men. Often these experiences are influenced by society's expectation that men are: macho, competitive, powerful, and emotionally reserved. In addition, men learn to cope with academic pressures, stress, and relationship issues within a life context that is shaped in-part by their male identity. This process- and insight-oriented group is designed to be a place to enhance healthy emotional coping in a way that is congruent with group members' experiences of being men. This group is welcoming of men who are diverse across all social identities.
Tuesdays, 2:35-3:50 pm (Leaders: Jason Hacker, Ph.D., Sandy Hogins)


"Understanding Trauma: Psycho-Education and Coping"

The primary focus of this group will be on understanding and coping with the impact of traumatic experiences. This group will strive to provide a safe space for discussing the effects of trauma, and group members can decide together the most meaningful focus for the group. Care will be taken in deciding when and whether to discuss specific traumas more directly. Possible topics of discussion include: exploring how traumatic experiences can impact your sense of safety, trust, self-esteem and intimacy; the physiological effects of trauma, including disrupted sleep and/or concentration; understanding feelings such as guilt, shame and anger; emotion regulation and self-care.

Wednesdays, 4:00-5:15 pm (Leaders: Jeanne Piette, Ph.D., Natalie Rusch)
Outreach Groups
"International Students: Toward a Global Self"


This group is for international students who wish to understand their experiences in a new culture and build communication skills in academic and social situations. The group provides information as well as an opportunity to discuss cultural adjustment, communication styles, relationship issues, and career/future plans.
Fridays, 12:15-1:30 pm (Leaders: Keum Choi, Ph.D., Lori Kinkler--contact group leaders to register)


"Relaxation for Mind and Body" (Drop-in Group)

Are you always in your head? STRESSED? ANXIOUS? UNFOCUSED? TIRED?

Give your mind and body a break -- come join us for a 45 minute relaxation group. This group will engage in variety of techniques and exercises each week that are intended to quiet the mind and release tension in the body. These include: guided meditations, mindfulness and visualization exercises, and a series of easy stretches to name a few.

No intake or ongoing counseling required. Come to one session or come every week. It is up to you.

To respect everyone's time and experience, we will close the group at 3:10. Please dress comfortably if possible.

Wednesdays, 3:00-3:45 pm, starts 1/15/14 (Leaders: Charrise Hipol, Psy.D., Ana Buenaventura, Psy.D.--No registration required, just show up!)