Programs and Events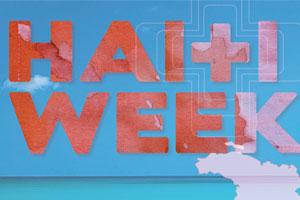 The devastation from the January 12th earthquake in Haiti has prompted an outpouring of support among members of the American University Community. There are a number of programs and events that AU students, faculty, and staff have organized related to the Haiti Relief Effort. We'll try to update this page as we receive information on additional programs/events. 

Do you know of a program, event, or volunteer activity aimed at supporting the Haiti Relief Effort? If you don't see an event or program send us information.
List of Events
Haiti Week Planning Meetings:
Are you a student, faculty, staff, AU Office or Student Organization? Then the AU Haiti Compact Advisory Group invites YOU and ALL INTERESTED PARTIES to a campus-wide meeting to organize events for "Haiti Week" in January 2011 commemorating the one-year anniversary of the earthquake. The first meeting will be on Thursday, November 11, at 11:00 a.m. in Kay Lounge. The second meeting will be held on December 2, 2010 in MGC 200 at 11:00am.  Bagels will be served for brunch. Please e-mail Keesha Ceran at nc2663a@american.edu to RSVP.
Haiti Week
Haitian Cuisine at TDR & University Club
Friday, January 14- lunch
Event: "Legal Issues and Rule of Law in Haiti" (Part of Haiti Week)
Time: 12:30- 1:50pm Wednesday 1/12
Location: Washington College of Law WCL, Room 402
Hear from experts about the legal issues facing Haitians still in Internally Displaced Persons camps one year after the earthquake.
Event: Memorial Service Commemorating Haiti Earthquake
Time: 7:00pm - 8:00pm Wednesday 1/12
Location: Kay Chapel
On the year anniversary of the tragic earthquake, join the AU community in a solemn evening of reflection, hope, and prayer for the people of Haiti.
Event: Table Talk Haiti: Looking Past & Looking Forward
Time: 12:00- 1:30pm Thursday 1/13 table talk in Kay,
Location: Kay Lounge
Haiti scholars and Haiti students talk about Haiti's unique history of resistance and provide insight & thoughts on Haiti's future.
Event: Haiti benefit concert & documentary film "The Quake"
Time: TBD
Location: Tavern
AU Rising for Haiti Part III will combine music, song and poetry to raise money for continued engagement with Haiti. The documentary film "The Quake" will be shown along with a group discussion after the film.