Main Office (Anderson Hall): Mon-Fri: 9 AM-5 PM; Sat-Sun: Closed;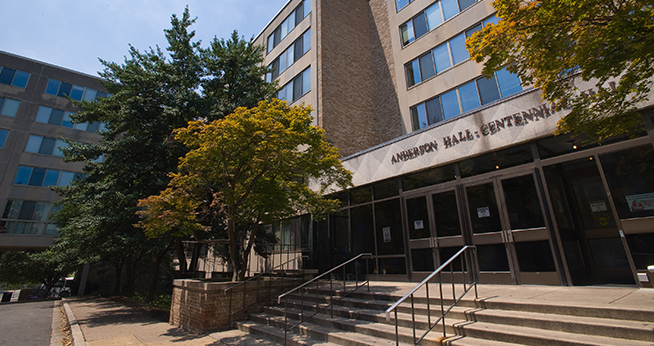 In 1987, Centennial Hall was added to South Campus. It provided a third Residence Hall to the complex structure created by Letts and Anderson Halls. Centennial Hall was known as the "J-Dorm" by students, for Junior Dorm. It was designed with the intention that it would be housing for upper-class students, primarily in their third year at American University and was intended to "enhance a sense of community," amongst this population of the student body.
Centennial Hall is home to approximately 400 students and is designed for suite-style living. Each room in Centennial Hall shares a private bath with one adjoining room. There are six kitchens and six laundry rooms in Centennial Hall. Centennial Hall is connected to and shares desk services with Anderson Hall. The Perch, a lounge space with a coffeehouse atmosphere, is located on the first floor of Centennial Hall.
There are twelve Resident Assistants in Centennial Hall, and they work closely with the Hall Council to provide great programming opportunities for residents! In 2014, Centennial Hall created the first place banner for the Women's Basketball S'More Spirit Tailgate Event, and Centennial also won "Do it in the Dark," a campus-wide energy saving competition. Centennial's hall colors are gray and silver.
Along with our student staff members, Anderson Hall is also home to three Community Directors (CDs) who supervise Anderson and Centennial Halls. These professional staff members work closely with the Resident Assistants and Program Associates to create the best living-learning environment possible for our residents. Anderson is lucky to also serve as home to our Faculty in Residence.
Building photo courtesy of Jeff Watts.