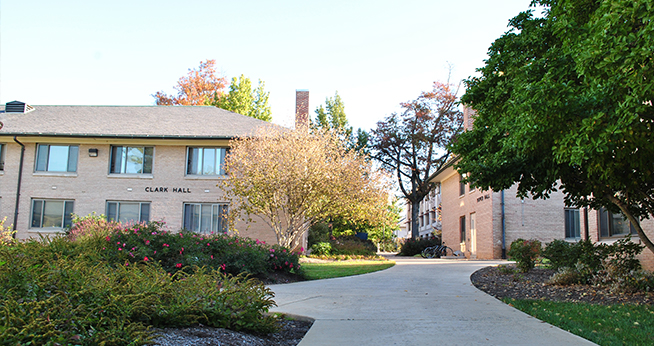 Clark Hall was built in 1955 and named for Lucius Charles Clark, University Chancellor from 1922 to 1932, Dean of the Graduate School, and Director of School of Political Science. Clark planned the construction for many early buildings and raised prominent funds for the University. He brought to fruition many programs for the college of liberal arts.
As a member of the Letts, Clark and Roper housing cluster, commonly referred to as "LeCloper," Clark Hall has a tradition and history of being a very involved and engaged community with a strong sense of spirit!
Students of Clark Hall have access to many different types of community spaces within the larger Letts Hall, including the Letts Formal Lounge which is used for large events and classes, as well as the Sky Lounge, a multi-purpose entertainment and program space that has some of the most beautiful views of the city.
The building is home of two Resident Assistants, a lounge, shared kitchen and laundry facilities. Clark Hall shares a complex and garden area with Roper Hall.
Community Traditions:

Annual "Pie in the Sky" Event 
Annual "LeCloper Pumpkins" Event
Get involved: Interested in making a difference for the community you belong to? Like programming and event planning? Are you an activist at heart and want to get involved in being an advocate for people you serve? Then joining the Letts, Clark and Roper (LeCloper) Hall Council may be for you! Email lettsclarkandroper@gmail.com for more information.