Corinne
from Trinidad and Tobago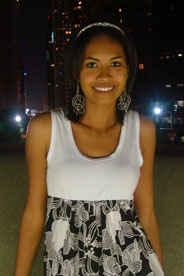 Major: Elementary Education (CAS)
Minor: Psychology (CAS)

---
What's your favorite part about living in DC?

D.C. is big and when I say big, I mean enormous, gigantic, tremendous, and any other adjective you can possibly think of (well, big for me, I am from the small island of Trinidad and Tobago after all). Nevertheless, people always raise their eyebrows when I tell them that my favorite place in D.C. is not the Washington Monument (but it's so tall!), not even the White House (I swear I saw Obama!). My favorite place in the entire city is the area right outside of the Columbia Heights Metro stop. I know, doesn't sound exactly appealing right? Well, it is.  

You see, right when you step out of the metro stop you get blasted with a wave of culture, then you get blasted with a wave of smell, and I don't mean a bad smell. I mean the smell of warm empanadas, (the greatest meat pies in the entire world), the chattering people, the street artists who draw your portrait, and the political activists who want to discuss policy issues with you. This is why I love that little area; it is the embodiment of D.C. and AU's ideals, the idea of diversity in our world. The idea that people are different and that learning not only occurs in the classroom, but through the experience of an amazing and diverse society.  

This is what AU has gifted me, the ability to recognize that the horizons for my world are extensive; that there is something bigger than me out there. However, even though the world is bigger than me doesn't mean that I can't be as big as the world. AU has taught me that I can do anything, and I mean anything I wish to do. Whether through service, learning, or just enjoying an empanada, I have realized that the world is at the palm of my hand and it can be in yours too.
Link to Corrine's personal blog:
http://onecuppacorinne.wordpress.com/2013/06/27/post-audc-culture-shock-pride-passion/