Rowshan
from Bangladesh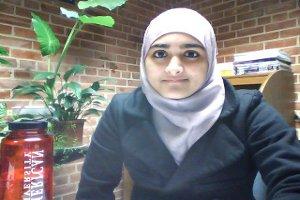 Languages: Bengali, English, Hindi, and Urdu
Major: Public Health (CAS) and Pre-med

---
Tell us about the international community at AU and what it's like to be part of it. 
The international community at AU is great. There's people from all over the world and I think that's what I like most about AU. There's a very diverse group of students on campus and the AU community is very open to diversity. I really love all the multicultural events that go on on campus. It's great to be a part of it and it's always wonderful to learn, see, and taste things from other places and cultures.

Any other story that you want to share that give insight into your favorite experiences at AU.
My favorite thing about AU is not only that there's a diverse community, but that there's so much to do on campus. AU is known to be a politically active campus and that might actually scare some students, but that's not what AU is all about at all. There's so many ways to get involved on campus that you won't find enough time to do everything you want. There's always something for you to do. I'm currently a part of the AU Women's Rugby team (AUWRFC), Muslim Student Association (MSA), South Asian Student Association (SASA), WVAU (student radio) and AU Diplomats; and even though, I already have a busy schedule, there's still so many more clubs I wish I could give more of my time to. :)