Amish Country
Saturday April 6th, 2013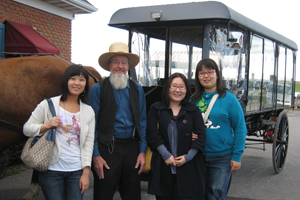 The trip to "Amish Country" in Lancaster, Pennsylvania is Road Trip USA's most popular event. Students learn about the Amish people who came to the United States in the 1700s to flee religious persecution in Germany and Switzerland. The Amish are unique because they dress as their ancestors did in the 1700s and they do not use electricity, cars, computers, cell phones, or even shirt buttons.
Participants will travel to Lancaster in a private coach bus, eat a delicious homemade Amish food in the home of a real Amish family, enjoy a tour of Amish Country by a local guide, see Amish farms and school houses, and ride across Lancaster County in an Amish horse-drawn buggy. The cost is $60.00 and can be paid in cash, checks, and Eagle Bucks. The group will leave at AU at 8:15 AM on the 6th and will return around 8:00 PM later that day. All AU students, staff, and faculty are welcome to join. There are only a few open seats, so register in ISSS today!

Visit our Facebook event page: Amish Country

Checkout Amish Country's press coverage in The Eagle: "AU students take a trip back in time."
Want to learn more about Amish Country? Write to us at: RoadTripUSA@american.edu.