Road Trip to the National Cherry Blossom Festival
April, 13 2012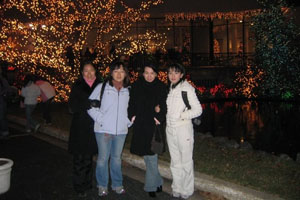 View the beautiful cheery blossoms and celebrate Japanese culture at the National Cherry Blossom Festival!

Join Road Trip USA for a day trip to the National Cherry Blossom Festival and enjoy the "Sakura Matsuri" - Japanese Street Festival, eat Japanese food, experience over 30 Japanese cultural exhibits and listen to Japanese music performances.
History of the Cherry Blossom Trees and Festival: 
Each year, the National Cherry Blossom Festival commemorates the 1912 gift of 3,000 cherry trees from Mayor Yukio Ozaki of Tokyo to the city of Washington, DC. The gift and annual celebration honor the lasting friendship between the United States and Japan and the continued close relationship between the two countries.Information Link
When: April 13, 2012 (10am-12pm)
Cost: Free. Optional trip on the same day to the Sakura Matsuri; $5 only.

        Sign up by emailing roadtripusa@american.edu

Questions or comments: email RoadtripUSA@american.edu

Checkout our Facebook event: Road Trip to National Cherry Blossom Festival

Checkout the Official Cherry Blossom Festival website