MLK Day of Exploration
Saturday, February 2, 2013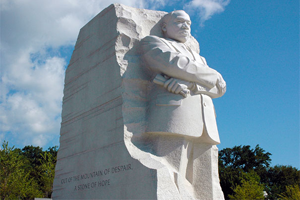 Get ready to celebrate Martin Luther King, Jr. weekend with the AU community! Come visit the new MLK Memorial and other important sites in DC.
Martin Luther King, Jr. was an American, activist, and prominent leader in the African-American Civil Rights Movement. He is best known for being an iconic figure in the advancement of civil rights in the United States and around the world, using nonviolent methods following the teachings of Mahatma Gandhi. King has become a national icon in the history of modern American liberalism.

The MLK Memorial hopes to:

"To commemorate the life and work of Dr. Martin Luther King, Jr. by leading a collaborative funding, design, and construction process in the creation of a memorial to honor his national and international contributions to world peace through non-violent social change." MLK Memorial website

What: Explore the MLK Memorial and have a driving Road Trip around the National Mall and other awesome DC sites.

When: Saturday, February 2, 2013 (10am-2pm)

Limited Spaces. Please email roadtripusa@american.edu to sign up.