Washington Semester Orientation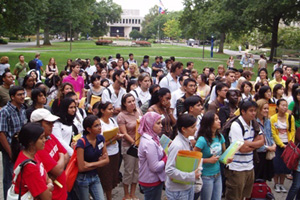 Orientation date(s): August 20 - 24th

Check in time/place: 9 am on August 20th, Constitution Hall on Tenley Campus

International student move-in is on August 19th.

Note: All international Washington Semester students will be automatically registered for orientation and are expected to attend. You will receive a more detailed orientation schedule via email prior to the beginning of the semester.
For more information, please contact the Washington Semester program: gotodc@american.edu or call +1 202 895 4926.

Students who have been assigned a room in a residence hall may move into the Tenley Campus residence halls on the date that is to be announced soon.