Washington Semester Orientation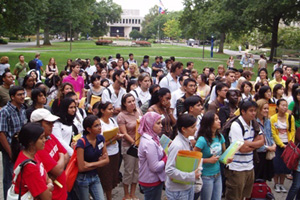 WSP International Welcome:
Fall 2014 and full-year Washington Semester Program participants from overseas institutions begin the program with a flexible, but required check-in on Tuesday, August 19th and mandatory orientation Wednesday, August 20th on American University's main campus in Kay Spiritual Life Center. All Washington Semester Program visiting students (from across America and the globe!) will then gather for additional program orientation from Thursday, August 21st.
Move-In: 
If you are living in university-affiliated housing, you are welcome to move in on Sunday, August 17th or Monday, August 18th. Please plan to arrive during the daytime, if possible. Late night arrivals will be given access to their room or apartment, but should notify the Community Coordinators at their university-affiliated housing provider before arrival. If you are planning to live in off-campus/private accommodation, please secure your accommodation before the beginning of international orientation.
WSP-International Orientation Schedule 
Tuesday, August 19th through Monday, August 25th*
Required Check-In Center: Tuesday, August 19th at your leisure between 12:00 – 5:00pm
Mandatory Pre-Orientation: Wednesday, August 20th at 9:30am
Washington Semester Program Full Orientation: Thursday, August 21 – Friday, August 22
The Amazing Race (optional): Saturday, August 23rd
Free Day: Sunday, August 24th
Internship Bazaar: Monday, August 25th
* Students who have been assigned a room in a residence hall may move into the residence halls on the date assigned.
For more information, please contact Stephanie Rucker Andrews at the Washington Semester Program office directly by emailing ruckeran@american.edu or calling +01-202-895-4926.
For more information, please contact the Washington Semester program by email or call +1 202 895 4926.