International Transfer Student Orientation
Fall 2015: August 22th, 23, and 24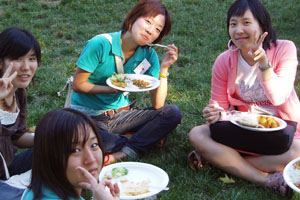 Welcome to Orientation!
International Student Orientation covers important immigration, employment, and cross cultural sessions, as well as academic information specifically of interest to all international students beginning at American University. Then on Monday, August 24th, you will join other new transfer students at the university's Transfer Transitions Orientation. This program will give you the chance to learn about life at AU, as well as to meet your new U.S. classmates who are also transferring from other universities.
If you have been assigned a room in an on-campus residence hall, the halls will open for move-in at 3:00 pm on Friday, August 21 for students registered for International Student Orientation. You can check-in directly at the front desk in your residential hall.

REQUIRED CHECK- IN at the INTERNATIONAL ARRIVAL CENTER
Saturday, August 22, 2015

You are required to complete your orientation and immigration check-in on Saturday, August 22 anytime between 12:00 pm (noon) and 5:00 pm. Please report to the SIS Building (School of International Service) any time during the day. Please bring your laptop computer as we will be completing required immigration processes online.

At the Arrival Center, you will pick up your orientation packet and schedule, name tag, and other important documents. You will also be guided through your immigration check-in on your own laptop. In addition to these requirements, the following (optional) events will be offered:

Campus Tours
Lunch with a current American University student
Set up school WIFI on your laptop
Shopping trips
Starting at 5:00 pm, we will have a Welcome Reception for all new international students and their families. Get to know other internationals, and meet your ISSS staff!

Saturday, August 22 2015
English Assessment Exam
(Registration required)
9:00 am-12:30 pm
*To pre-register, please click here
ORIENTATION EVENTS (mandatory)

Sunday, August 23, 2015
International Student Orientation
9:00 am-5:00 pm

Tuesday, August 25
Transfer Transitions Orientation Day
Questions?
International Student & Scholar Services
intlorientation@american.edu
+1-202-885-3350