The Great Frederick Fair
Friday September 16, 2011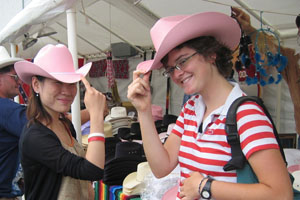 Experience rural American culture at a real county fair in Frederick, Maryland on Friday September 16th. Students will be able to enjoy unique and delicious American food, ride carnival rides and play games, listen to country music performances, and pet farm animals. The $8.00 cost includes transportation and entry into the fair and can be paid with cash, checks, and Eagle Bucks. Participants will leave AU at 3:30 PM on September 16th and will return later that day at around 9:00 PM. Because there are only 8 seats available, students are encouraged to sign up as soon as possible in ISSS (Butler 410).  Students must register in ISSS.

Checkout this Success Story article on the fair:  "The Great Frederick Fair"
Want to learn more about The Great Frederick Fair? Email us at RoadTripUSA@american.edu.