Road Trip to U Street Tour
February 25, 2012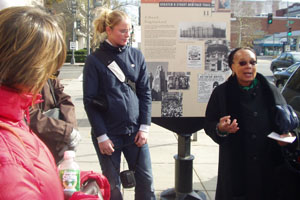 Black History Month is here!

Come celebrate it with a Road Trip to U-Street. A professional guided tour of historic U Street, delicious food at the famous Ben's Chili Bowl and the company of other international students: what more can you ask for?
The U Street area is largely a Victorian-era neighborhood, developed between 1862 and 1900, the majority of which has been designated a historic district. The area is made up of row houses constructed rapidly by speculative builders and real estate developers in response to the city's high demand for housing following the Civil War and the growth of the federal government in the late 19th century. The corridor became commercially significant when a streetcar line operated there in the early 20th century, making it convenient for the first time for government employees to commute downtown to work and shop. Information Link

When: February 25, 2012 (2-7pm)
Cost: $15 but fist 10 people to register get a special discount of $8 
               Register in the ISSS office (Butler 410)
Questions or comments: email RoadtripUSA@american.edu

Checkout our Facebook event: Road Trip to U-Street

Read this great article from American Observer on the trip: "International students get a lesson in black history"