Faith in Action at AU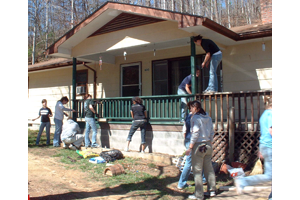 Many theologians believe that extricating oneself from life's vicissitudes and hurt also separates one from God's providence. If that claim is true, then God calls people not to religion, but to life. God's presence is then revealed not in what is unknown, but in what is known about the world in which we live. The beginning of our understanding of the Creator is context – praxis.
This understanding of the divine and our place in the world focuses not on the message to be delivered, but rather on the message that has already been delivered to the world. The core of that message is essentially that we are all children of God and therefore we are all of infinite worth and value, regardless of station in life, race, income or national origin. Social and political organizations, afflicted by greed, abuse of power and concentration of wealth, have created a distorted world of brokenness and alienation. We have despoiled the environment, waged needless wars, and condemned most of the world's people to grinding poverty. As people of privilege, we are called to join in construction of a world characterized by basic fairness and simple justice. We aspire to this animating vision of a peaceful world of equality and opportunity for all. As Dr. King said, "injustice anywhere is a threat to justice everywhere."
The call to right these wrongs is not to bestow justice on the oppressed, but to join in God's liberating actions around the world by seeking to empower the powerless. We then can work for justice in the confidence that the "moral arc of the universe is long, but that it bends toward justice."
As a university community, our first obligation is to do no harm and to assist in equipping the oppressed to become agents of their own liberation. These actions promise to catalyze a change in the way that we view ourselves and our relationship to the world. It will require a redefinition of our own self-identity. Thus the invitation to share in the struggle for social and political change promises hope not only for outward change, but also has to be understood as potentially triggering a deeper moment of transformation and spiritual growth.
AU is a values based institution. At the center of this university's identity is the organizing principle that asserts that we put ideas into action and action into service. Many of our faith communities are engaged in projects that advance a justice-based human community. The Kay Spiritual Life Center is also the genesis of the University's Community Service Center and Alternative Break program. It is in service and the struggle for justice that the university community finds both its meaning and its higher purpose.
AU Center for Civic Engagement and Service
AU United Methodist Other Six Days Program
Catholic Student Association Community Service Chair