Faith in Action at AU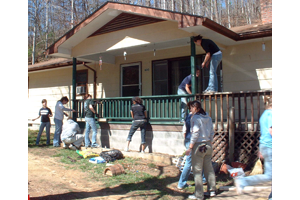 American University is a values-based institution. At the center of AU's identity is the organizing principle that asserts we put ideas into action and action into service. Many of our faith communities are engaged in projects that advance a justice-based human community. Through our work, the university's Center for Community Engagement & Service and Alternative Break program came to be – two defining facets of AU's outreach today. It is in service and the struggle for justice that the AU community finds both its meaning and higher purpose.
To hear from Kay Center students about their service work on campus and in the world community, simply read the accounts below. If you're interested in joining us in serving, feel free to email, call, or stop by our offices.
AU Center for Civic Engagement and Service
AU United Methodist Other Six Days Program
Catholic Student Association Community Service Chair