On Campus
A One-Stop Philosophy
By Patrick Bradley
August 3, 2012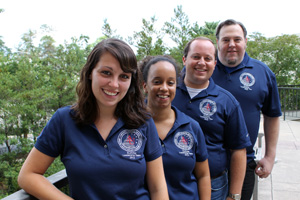 College campuses usually quiet down over the summer, but it's Curtis Hoover's job to make sure AU doesn't get too quiet.

Hoover is head of the university's Conference & Residential Services, the department that's responsible for putting AU's open space to use while students are away. In fact, Hoover and his staff keep campus more than occupied from May to August by hosting a number of conferences, summer DC interns, and international groups.

Just last year, AU welcomed 80 groups and more than 600 student interns for a total of over 10,000 overnight and daytime visitors. Groups typically range from student leadership conferences to language programs and religious retreats, and the interns represent undergraduate students who come from across the country to intern and learn in the political center of the world.

While so many guests and visitors staying in AU residence halls and using university facilities helps with income over the summer, it also allows the university to further its academic mission – something that's a top priority for Conference & Residential Services.

"Our goal is to go out of our way to provide folks with a rewarding, reasonably-priced experience in the DC area," Hoover says. "Everything we do has to be educationally affiliated. That's an important part of what we do."

To help him manage the high volume of groups and visitors, Hoover has a team of three year-round staff members in Nancy Martin, Christina Medico, and Jeff Bloom. The team expands, however, as soon as summer approaches. Hoover hires two student interns, 13 full-time student workers, and 45 part-time student staff members.

Conference & Residential Services needs the support, though, in order to maintain an aspect that sets it apart from other universities offering similar services.

"We operate as a one-stop shop, and we're the only school in DC that does that," Hoover explains. "You have one point of contact, one contract, and you receive one invoice in the end. We handle everything for clients, be it, housing, dining, meeting space, A/V needs, theater space. Everything goes through us. I think that gives us a step ahead of some of the other programs in DC."

This approach has helped the department and its services expand during the two years that Hoover has overseen it. New groups continue to hear about the quality experience AU provides, while long-time summer visitors keep coming back.

"The NSLC, National Student Leadership Conference, has been here for seventeen years. They've been here a long time, and they come back year after year," Hoover says. "I think that we have a lot of groups that do this repeat business with us each year. It says a lot about the service they receive."

These conferences also give outside students a glimpse of AU, something that might let them think about joining the university community in the future. It's something that Hoover considers when presenting the quality service and positive experience that have come to define Conference & Residential Services under his leadership.

So, while campus might be a bit quieter over the summer, it's less so with Hoover and his team hard at work, welcoming thousands of guests and inviting many of them to consider joining the dedicated community of wonks at AU.



Follow Conference & Residential Services on Twitter: @SummeratAU.
Find them on Facebook: Summer at AU.