Professional News
ATV Makes a Presidential Step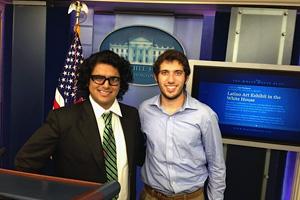 AU students are often moving up in the world, but the campus's television station has taken things to new heights.

Just last week, representatives from ATV took to the White House to make university history as the first AU students – and some of the only college students ever – to attend a press briefing at the nation's most iconic residence.

School of Public Affairs junior Geet Jeswani spearheaded the idea that eventually placed him and cameraman/producer Matt Carter in the James Brady Press Briefing Room with White House Press Secretary Jay Carney and dozens of veteran journalists.

"The whole experience is just mind-blowing," Jeswani recalls. "You're in the presence of a lot of great journalists. The best in the business, arguably. John King was once there, Wolf Blitzer. People that were great became greater after this."

The entire ATV crew anxiously watched C-SPAN's Daily Briefing from campus, hoping to catch a glimpse of their fellow reporters. Assistant director of Student Activities for Student Media Adell Crowe was with the group to show her support and take part in the joyous occasion.

She says the mood that day was one of celebration for the station's accomplishment.

"We were so excited. We were all watching it in ATV [Studios]," Crowe shares. "The first time they panned to the audience and we could see Geet standing up…all of the people in ATV started cheering."

Jeswani and Carter arrived two hours early to the briefing, where they got to meet journalists and cameramen from CNN and NBC, one of whom – Rod Batten – turned out to be an AU alum. Happy to have fellow Eagles there, Batten took the two on a tour of the press area.

"We were just having nerd fits," Jeswani says, as Batten even invited them to sign a space reserved for signatures of all visiting journalists.

While Jeswani and Carter were suffering fits of excitement, Crowe – a 30-year veteran reporter who has covered the White House – was experiencing one of her happiest moments as a journalist, media advisor, and mentor.

"It was one of the highlights of my career," she says. "I remember going and being a reporter there and it being scary. I raised my hand, thinking 'please don't call on me.' For Geet, in his early twenties, to be there raising his hand and hoping to be called on, I was very very proud."

Though Jeswani never got to ask his question – one he had prepared addressing student debt – he still appreciates the experience as one to be grateful for, especially considering he's not yet a professional journalist.

By opening this door for ATV to the White House, he's also provided an avenue for countless invaluable opportunities for current and future ATV journalists.

"We know that this is something that many people in journalism can't even accomplish in a lifetime. It takes a while," he says. "If I can give students a short-cut to get an hour of this experience, that would just be great. They would be inspired."

Still, Jeswani doesn't see this access to the White House as the end of his plans with ATV. Having succeeded with this task, he's looking to join the White House, Congressional, and Supreme Court Correspondents Associations so students have deeper access to report on policy workings.

After this big first step, he's considering all the other opportunities available just down the street from AU.

"Right now we're in a demo stage. We thought, 'Is it possible to do this?' We just discovered it is. It's possible to see this, meet other journalists, and have this experience that not many people in the world can have," he says.

Just like other students making the most of living and studying in Washington, DC, Jeswani and ATV will continue exploring AU's classroom beyond the campus, as they learn by taking part in all the incredible – and presidential – opportunities available in American University's backyard.