Student Life
AU Celebrates Hispanic Heritage Month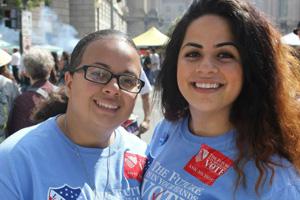 AU celebrates wonks of all walks, but from September 15th to October 15th, the university turns the spotlight to its Hispanic student population in honor of Hispanic Heritage Month.

During this time, the student body sees events and programming including Mexican folk music on campus and discussions on intersecting identities as well as off-campus trips for Fiesta DC and the National Book Festival.

It isn't just this month, however, that AU is nodding to its Hispanic students. According to Caroline DeLeon, coordinator for multicultural and first-generation programming in AU's Center for Diversity & Inclusion, her department is consistently focused on attending to the university's growing Hispanic demographic.

For DeLeon, who herself has Latin American roots, her work is both a personal and professional passion.

"The Latino community is near and dear to my heart for a personal reason, but also it is the number one growing population across all campuses and the country," she says. "Resources and access for Latinos is constantly something that needs to be advanced."

From advocacy and scholarship advising to internship connections, DeLeon and the Center are keeping this student population's needs at the forefront of their day-to-day operations. It's their efforts that have helped land AU Newsweek's #6 national college ranking for diversity.

Still, the university isn't just considering the campus's current Hispanic population; it's also thinking about those students who have yet to come and how to make them feel welcome, says vice provost for undergraduate enrollment Sharon Alston.

"We're trying to be mindful of what different perspectives or expectations particularly those students and their families might be bringing," she explains. "Do they have expectations of the university experience that might be different? Are there majors that might be of greater interest?"

Whether it's an interest in public affairs, international relations, or Latin American studies, Alston assures that any student coming to AU will find a supportive experience that opens the doors to endless possibilities – many of them just off campus in Washington, DC.

"Students work very closely with faculty," she explains. "Our faculty members are networked, and they share those networks with our students. They're creating opportunities for our students. It's more than just a faculty-student relationship that goes on. There really is a mentoring relationship."

DeLeon and the Center for Diversity & Inclusion support students once outside the classroom, engaging students of all identities to cultivate AU's living-learning environment.

DeLeon's particularly enthusiastic about the heritage programming this year. As some of the new Center's first events in collaboration with other offices and departments, she hopes the calendar shows the campus unity around celebrating Hispanic students and their various heritages.

"I'm excited to have the Center team on it to say this is what we're doing as an office and as a broader campus partner," she says. "With heritage months in general this year, we're pushing to be more inclusive of other offices across the campus."

The month's cross-campus collaborations include working with the School of Communication to relaunch a weekly podcast on news and public affairs in Latin America as well as partnering with LASO (Latin American Student Organization) to help Hispanic students register to vote. LASO even hosted a Latino Youth Summit, encouraging local youth to get involved with their communities.

One of AU's hallmark partnerships for the month welcomes the Congressional Hispanic Caucus Institute to campus, which offers students internships on Capitol Hill and various opportunities to learn from leaders in the Latino community. Past participants have met with author Junot Diaz, comedian George Lopez, and Jose Hernandez, the first Latino in space.

Whether with the events, advising, and attention on campus or the internships and opportunities found throughout the city, AU's support of Hispanic students won't end on October 15th with Hispanic Heritage Month. Instead, the university will continue to find ways to engage these students – as it does with the rest of the student body – to make sure AU is place where wonks of all heritages can learn, grown, and thrive.

For a list of the Center for Diversity & Inclusion's Hispanic Heritage Month calendar, click here.
To check out the School of Communication's events, click here.