Student Life
AU Celebrates MLK Through Service
By Patrick Bradley
January 26, 2012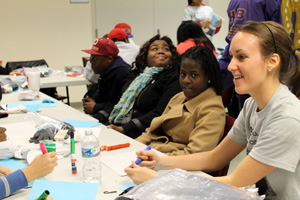 Tradition Evolved

On the subject of service – and life purpose in general – Martin Luther King, Jr. once said, "Life's most persistent and urgent question is, 'What are you doing for others?'"

With that question in mind, students and leaders from the AU community once again connected with area nonprofits to celebrate the annual MLK Day of Service.

"King stood for what the university talks about," said Donald Curtis, operations coordinator for the Center for Community Engagement & Service. "[The event] gives the students the opportunity to reach out to the community. We're engaging with the District, and the District is engaging with us."

In his fourth year as head of the event, Curtis has seen this AU tradition develop into a deepening of partnerships with the citizens of the District of Columbia.

Initially, he says, university officials "focused on doing beautification projects. They were just trying to do service on the day of service."

Now, with an emphasis on engagement and the continual development of relationships, he says, "It's evolved into focusing on poverty and different forms of poverty, from HIV/AIDS issues to homelessness issues and women and gender issues."

Mentors

On January 21st, 270 volunteers turned out to learn about and engage in these issues, working at 11 different sites across the District from the southeast to the northwest. These volunteers, however, weren't entirely an AU crowd – something that made this year's event special.

Coordinating with youth empowerment groups and DC public schools, Curtis brought in local teens to work alongside AU students.

"I think students really enjoy working with other students, especially if they're working with younger kids," Curtis said. "These are high school kids. I want the kids – local kids – to see that they too can be involved in service projects because it is their community."

Kenny Carol, youth services case manager for Uniting People & Opportunities, oversees the organization's Power Program, which has partnered with AU to bring high school students to campus on weekends and summer breaks for academic, social, and career education.

Seeing service as another way to advance his students, Carol appreciates the MLK event as an extension of the partnership with AU.

"This day is great," he said. "It's important for the students in our program – many of whom will be first-generation college students – to see college students. To be working with them in a community service project is extra special because it talks to them about their ability to give back to their communities."

In two hours, Carol's group and AU students produced over 280 cold weather packs of scarves, gloves, and warm messages for the homeless.

Pride in Service

Students of all backgrounds came out to serve at sites addressing issues ranging from elderly care to HIV/AIDS prevention. Volunteers prepared meals, planned public service announcements, or just listened to someone's story.

School of Communication freshman Chantel Romero Hernandez believes the event offers students a way to get connected for the long-term community investment the university hopes for.

"I love that AU builds in these events," she said. "For kids that come here from Texas or California, they don't know the area. They might want to serve but don't know where."

The event, she says, allows students to find and connect directly with an organization without getting "lost in the city trying to do what they want to do."

Alumni, staff, and faculty also came out to serve. Laisa Daza, School of International Service '07, finds a sense of school pride in the work.

"American is really big at promoting community, service, and giving back," she shared. "It allows you to connect and be proud that you [went] to AU. They don't just promote it; they do events that are service."

While the work itself may not be unusual, it's the intention that sets AU apart from other institutions; the hope for deepening relationships aligns the university with Dr. King's message.

"I think it's our approach," Curtis said. "We're looking at the different issues of poverty. We are looking towards longevity and sustainability – what happens next. After this event, hopefully people will find a new way to connect with organizations or have a conversation around an issue. That's the hope."

At a university dedicated to community engagement, a commitment to service is something that any leader, any student can get behind.