Student Life
Honoring Hughes
By Patrick Bradley
September 13, 2011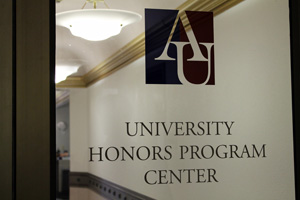 McDowell Hall's neighbor, Hughes Hall, may not be experiencing major renovations at the moment, but the residence hall has its own fair share of changes to note.

For the first time, Hughes Hall houses a population that's almost exclusively Honors Program students. Of the building's 305 residents, ninety-nine percent are part of the Program. The remaining percent represents friends pulled in by current Honors residents.

While McDowell hosts an all sophomore community, Hughes has become an especially freshmen affair. Ninety-five percent of first-year Honors students now call the building home, with about 100 second, third, and forth-year students filling in the remaining spots. Together, they make up about 35% of the total Honors presence at AU.

Following renovations last spring, the entire University Honors Program moved into Hughes Hall's first floor. The building now contains offices and meeting rooms for the program's staff and students, as well as the Frederick Douglass Distinguished Scholars Program and the new SIS Global Scholars Program. As a result of these building changes, both of these Honors subgroups students also now reside in Hughes Hall.

Hughes' RD, Jason Autry, sees the new living-learning arrangements as an opportunity for student development outside of the classroom. Autry's Hughes staff and the Honors Program are looking to create unique, compelling programs for the residents.

On coordinating with the Honors Program, Autry says the process so far has involved "finding out what they want the honors student experience to be, and finding ways to marry our skills with their skills."

Autry will meet with staff and faculty from each Honors group to create the most effective environment possible. A plan should take shape over the academic year, potentially including community service opportunities and in-hall lectures.

Autry and the Honors staff will continue exploring questions regarding "the ways we can make this a full, holistic, student-centered approach that's intentional, developmental, entrenched in theory, [and] all based on student success," as he describes it.

Whatever plans arise, Honors students have an engaging living-learning community to look forward to in Hughes Hall.
 


For a look at the changes that have taken place in neighboring McDowell Hall, click here.