On Campus
Instruction, Free for All
By Patrick Bradley
October 11, 2012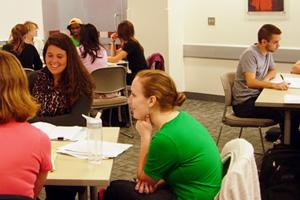 There's a free service on campus bumping up GPAs each semester, and it's almost too good to believe.

Ira Fabri knows it's the truth, however. As coordinator of the Academic Support Center's Supplemental Instruction Program, she oversees a program that scores of AU students take advantage of each year.

"It targets difficult courses rather than students that have difficulties," Fabri explains. "Students who took those classes and did very well, either an A or A-, we train them to facilitate group study sessions with students in the class."

Simple as that.

The Supplemental Instruction Program – or SI – supports students in classes ranging from financial accounting and physics to applied calculus and chemistry, all of which are typically challenging courses. Fabri hires and manages a team of about 16 students who lead groups in exploring effective study skills for each subject rather than merely reviewing course material.

"That is what's wonderful about this program. Students don't just gain more understanding of the content. They get many methods that they can then apply to any other topic. It's something they can use along their whole student career," Fabri explains. "They become more independent learners. They do it as a group, so it's also fun."

While it may be fun, the benefits are certainly real. Last spring, students who attended SI earned an average course grade of 3.09, while their peers who didn't received an average final grade of 2.78 in the same course.

As it turns out, a growing percentage of the student body is looking to enjoy the program's obvious upsides. Last year, more than a thousand students attended SI at least three times or more, and – according to Fabri – those are just students enrolled in the course sections that SI supports.

"If we look at the whole population," she says, "there were twelve hundred or thirteen hundred students who went to SI at least once, sometimes from classes that were not officially supported but, because students hear about how effective it is, they still go. Last semester, it was eighteen percent of the undergraduate population that went at least once or more."

This 18% learned and studied in groups of usually about five to ten students, with numbers climbing around exam time, when almost 150 students once took part in an SI accounting session.

With the opportunity to help so many students, SI leaders take away different but equally powerful benefits from the program.

"Some of them develop a passion for teaching. In Kogod last year, we had two professors who were SI leaders here six to ten years ago," Fabri says. "All our leaders find a job just like that. They are excellent students, but I'm sure it helps to have that on their resumes."

Whether for the students attending or the leaders themselves, the SI program highlights a larger point about the university and its Academic Support Center – that AU is not an institution wrapped up in test scores as much as it is one dedicated to fully educating its students.

"It's not just a grade thing," Fabri explains. "We look at the student as a whole person and understand how they can benefit, not just for the final grade of that exam but to develop their potential and become better students overall."

And while the SI program may be a star service of the Academic Support Center, it's just the tip of the iceberg of all that the Center – and the university community – will do for its students. From its expert faculty to its supportive staff and engaging programs, AU is dedicated to helping its wonks achieve their full potential.

"This university really is student-centered, student-oriented," Fabri says. "Whatever we can do to have the students succeed, we do."

That's the simple truth about American University.