Student Life
International Students & the Evolving Self
By Patrick Bradley
February 13, 2012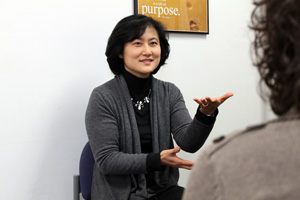 Moving to a foreign country to study is an opportunity full of positive experiences, but these experiences often come with some challenges. Adapting to a different culture and its new set of social and academic expectations can give any student pause.

AU – an institution hosting over 1,000 foreign students and scholars from over 125 countries – is no stranger to helping students deal with these cultural transitions. In fact, the Counseling Center invites these students to participate in a group that has proven extremely successful in helping students adjust since its inception six years ago.

Dr. Keum-Hyeong Choi, a staff clinician at the Counseling Center, created the International Students Discussion Group and moderates its meetings with current predoctoral psychology intern Gina Bruns. Over the years, Dr. Choi has watched the group evolve in a way she didn't expect.

"The format has changed from a very structured group, where I had topics for when students didn't know what to talk about and had difficulties sharing personal experiences," she explains. "The trend these days is that students appear to feel much more comfortable engaging in a group setting, being interactive with one another, and learning about their unique personal circumstances."

The small group of students from various countries makes a ten-week commitment each semester to attend weekly, seventy-five minute sessions. When everyone is from abroad, Dr. Choi explains, it's the realization of shared experiences between the students that makes the group so helpful.

"In the group, students feel so normalized because the other students are going though the same experience," she says. "They're assured that they're not incompetent, wrong, or weak. In their culture, they viewed themselves as an intelligent, humorous person who had great potential to be a leader, but coming here – because of language and cultural barriers – they feel overwhelmed when that familiar self-image does not work and begin to seriously question who they are without fully examining the impact of environmental changes on their sense of self."

While many challenges may seem external for an international student, it's this internal struggle over a shifting identity that the group most directly addresses. For Dr. Choi, it's the central issue facing students when abroad.

"Being in another culture and having a second language learned, a bicultural sense of self is developing," she explains. "Students find some of the cultural values in the U.S. so conflicting and different from those in their country; they are challenged to examine new ones and reexamine their cultural beliefs. Students consider new cultural ways of relating to themselves and others, but in this process, they often initially feel that if they try a new or different way, they are rejecting their familiar self and even their own cultures."

Instead of a separate and new self, Dr. Choi moves her group toward the idea of an evolving self, where qualities from the new culture lead students to discoveries about themselves. While Dr. Choi proposes this idea, she watches the students support each other in that direction naturally.

"When there is a personal situation, whether it's in the classroom or with peers, the students work together to understand what's going on and come up with suggestions as to how to handle it and provide support to one another," she says. "Then, the following week, they report having engaged in actions that indicate their accepting of a newly developing cultural self, with more confidence that it would add something more to who they are rather than feeling like their self was completely altered."

These breakthroughs thrill Dr. Choi and reaffirm her commitment to the group, which meets both in the fall and spring semesters. By addressing this sense of self, she believes international students can become fully engaged during their time at AU – a community dedicated to fostering global connections and perspectives in its students.

"My hope in the group is for them to take full advantage of the opportunities they have in another culture, maximize their learning about themselves, and make an informed decision to become a biculturally competent person, perhaps," she says. "You choose who you want to be in a given situation, rather than two selves competing against each other."

With the support of Dr. Choi, each other, and a global-minded campus body, international students can rest assured that – while challenges may arise – these challenges won't be faced alone, bringing out the best in them and their experience here at AU.



For more information on the Counseling Center, the International Students Discussion Group, and the Center's other group programs, click here.

Follow the Counseling Center on Twitter: @AUCounselingCtr.