Student Life
Kamran Rasul, a Generous Expert
By Patrick Bradley
May 21, 2012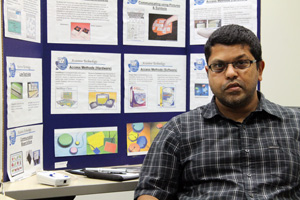 Disability Support Services' Kamran Rasul has been taking his expertise off campus.

The adaptive technology specialist has over ten years of experience helping people with disabilities access technology and improve both their lives and educations. An AU staff member since 2007, Rasul first started on his career path in his hometown of Toronto, Canada – it was a moment that would change his life and the lives of the many people he would go on to help in the future.

"I discovered you can marry technology with helping people with disabilities through adaptive or assistive technology – using specialized equipment that can help a disabled person access technology," he says.
Having found his passion in assistive technology, Rasul decided to encourage a new generation of students to consider a career of helping people with disabilities. A volunteer with Maryland's Montgomery County Library System, he recently visited a handful of local middle and high school Career Days to break some perceived stereotypes and open eyes to an important field that includes jobs in biomedical engineering, occupational therapy, and computer science.
"Oftentimes teachers are under the assumption that when you work with someone with disabilities, there's always a negative – that there's always going to be some negative work, never positive work," he says. "When I add the technology component, the kids think, 'Oh, I could be an engineer making robotic arms.'"

He spoke to dozens of students at each school and will present to others in June, showing them items like screen readers and voice recognition software, which help people with disabilities better pursue academics. Rasul, who has a master's degree in education, is more than happy to share his knowledge and experience with students. His personal experience is one major reason he works in the field of assistive technology.

"Some of the students actually had disabilities themselves. It was nice to know I could talk about my disability with them. They were very open about that. So I told them that I'm a person with a disability," he shares. "I wear hearing aids. That's why I like helping people with disabilities, because they have some of the same set of issues I'm dealing with."

It's not just out in Montgomery County that Rasul connects with students with disabilities, however. Working with the Academic Support Center, Disability Support Services, and the University Library, he regularly improves the academic lives of scores of AU students.

"It's fulfilling just knowing that I'm able to help students learn something about adaptive technology that they didn't know," he says. "I know that students who walk out of my office will take advantage of the technology, and it's going to help them make their education a lot easier and their learning more effective."

While he plans to keep reaching out to students in the DC area, his efforts at AU will certainly continue to allow students with disabilities to thrive on campus. It's his favorite part of the expertise he has gained from years of experience, he says, always appreciating "any way I feel I've made a difference in their lives, in making sure that they can be successful at AU using the adaptive technology."