On Campus
Maryland Delegate & AU Alumna Visits Campus CLASE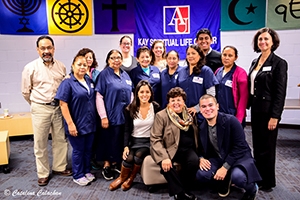 On December 3, AU students and campus housekeeping staff gathered in the basement of the Kay Spiritual Life Center for their monthly meeting of CLASE—a student-led program that pairs the two groups in linguistic and cultural exchange. This particular meeting, however, featured a special guest: Maryland State House delegate Ana Sol Gutierrez.
Addressing the small crowd, Gutierrez asked, "Who else is from El Salvador?" All but one of the campus cleaning staff in attendance raised their hands.
Gutierrez first heard about the American University organization at a vigil supporting Central American immigrant children, when CLASE president and current AU senior Vanessa Moyonero spoke about the program, which helps ARAMARK cleaning staff practice English and prepare for the U.S. citizenship exam.
"Many students at AU go out into the D.C. community to help improve conditions without realizing that there are plenty of issues that require attention on campus, in their own residential building even," she explained.
Incoming club president Gabriel Garcia invited Gutierrez to join CLASE—which stands for Community of Learns Advancing in Spanish and English—for one of their monthly lunches, organized by fellow members Catalina Calachan, Roshan Thomas, Miriam Jackson, Amy Wetmore, and Carlos Vera. Many from the group were excited to see the state delegate, recognizing her from appearances on Latino television channels such as Univision and Telemundo.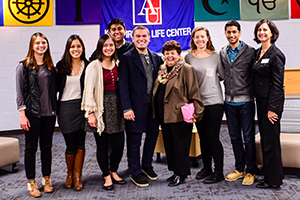 "As a Salvadorian, I am honored to be here and hear you speak to us," said Mercedes Fonseca, an ARAMARK employee.
"I can tell Ana Sol Gutierrez is a good person. She spoke beautifully and had a lot to say about everything. She really seems to want to help people," said Olga Blanco, another ARAMARK worker.
Gutierrez still prides herself on being Salvadorian, even after having lived in the U.S. since she was 5 years old, and in her comments she was quick to note that the Washington, D.C., area holds the second largest Salvadorian population in the country after Los Angeles.
Aside from being a state elected official, Gutierrez is also an AU alumna, having completed her graduate studies in the then-named Center for Information Technology with concentrations in scientific and technical information systems and computer science. She worked as a systems engineer for firms including Booze Allen and Lockheed Martin before serving at the federal level as deputy administrator of Research and Special Programs Administration in the Department of Transportation during the Clinton administration. She even wrote code for the Hubble Space Telescope.
Her career in politics began in 1990, when she served on neighboring Montgomery County's Board of Education. After noticing the stark difference in dropout rates between white and Latino high school students, she decided to work to improve public schools and in doing so became the first Salvadoran elected to U.S. public office.
After eight years on the Board, she realized that most decisions took place on a state level and ran as a candidate for Maryland State Delegate. Her election to Maryland State Government in 2002 marked the first election of a Latina in the Maryland General Assembly. "Being a legislator gives me an international view of our world…. I refuse to be parochial," Gutierrez said.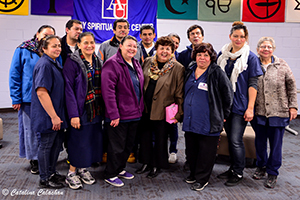 During her talk with CLASE, she also encouraged current citizens and those pursuing citizenship to exercise their right to vote, saying, "My motivation is fighting for people's voices to be heard but to do that you need to vote and to be willing to speak out."
Her journey from grassroots advocacy to the state level mirrors the efforts of CLASE, whose student participants graduate with hopes of affecting change in many different areas of social justice. This fall semester, the program involved 26 tutors and 21 tutee workers, with nine of those employees studying for the Naturalization Exam.
As ARAMARK employees often go unacknowledged—a common issue for cleaning staff in the "invisible" work force—CLASE creates bonds between them and students. Through CLASE's unique tutoring program, AU students communicate with the employees and learn more about their lives, culture, families, and day-to-day challenges.
For the past two years Moyonero has been tutoring Paulina Ruiz, an El Salvador native and 26-year AU worker. The two have formed an unbreakable friendship. "I look forward to tutoring Paulina because she is like a family member I have looking out for me at school," she explained. "If the weather is really cold one day she will cancel our session because she doesn't want me to get sick."
Former AU student Melissa Mahfouz co-founded CLASE in 2008, connecting it to a central focus on campus. "Social justice is a theme that unites most AU students," she said. "We felt it was ironic that those who could benefit the most from activism—the cleaning and cafeteria staff—were excluded from the AU community."